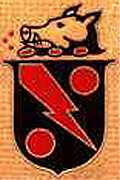 Fighting Squadron Four (the "Red Rippers") was given life in 1927 when it was commissioned Bombing Squadron One on the USS Lexington. In 1932, it changed its name and type of plane to become VF-5. Throughout the above period, and during the next 4 years, the squadron trained on and traveled with the Lexington. In 1935, the squadron´s FF-1s were exchanged for F2Fs.
On July 1, 1936, the squadron transferred to the USS Ranger, but not until 1937 did it drop the title of VF-5B to assume that of VF-4. Late in 1940, VF-4 was given F4F-3s Wildcats and the next year renamed VF-41.
The first enemy action for VF-41 was during OPERATION TORCH to support the invasion of North Africa. The Ranger fighters accounted for 16 French fighters, strafed enemy ships and airfields, and gave air coverage to landing operations. Although 5 pilots were shot down, all were recovered alive.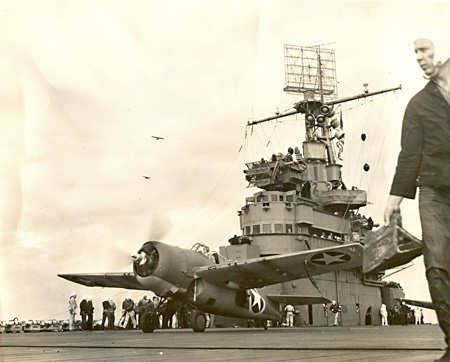 VF-41 F4F Wildcat takes off from USS Ranger during OPERATION TORCH.

Returning again to the US for operations in the North Atlantic, the squadron was once again named VF-4, the "Red Rippers." While aboard the Ranger, the squadron participated in OPERATION LEADER--strikes on German shipping in and around the port of Bodo, Norway, North of the Arctic Circle. VF-4 pilots shot down 2 German planes during OPERATION LEADER.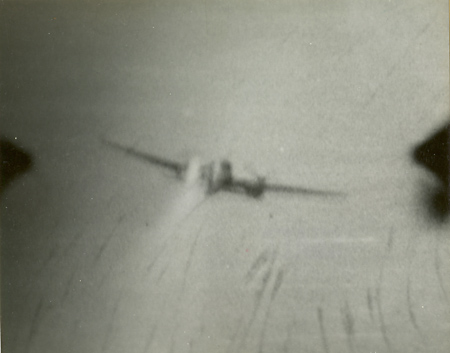 Gun camera shot of Junkers JU-88 catching fire during attack by Lt(jg) Boyd N. Mayhew and Lt(jg) Dean S. Laird during OPERATION LEADER. The plane was shot down with no survivors. October 4, 1943.

Back home again in April, 1944, the squadron was enlarged to 36 planes with new F6F Hellcats and sent to the Pacific as the fighter segment of Air Group 4. In the Pacific theater, AG-4 had combat duty on 2 aircraft carriers, the USS Bunker Hill and the USS Essex. Details of these operations are given elsewhere on this site.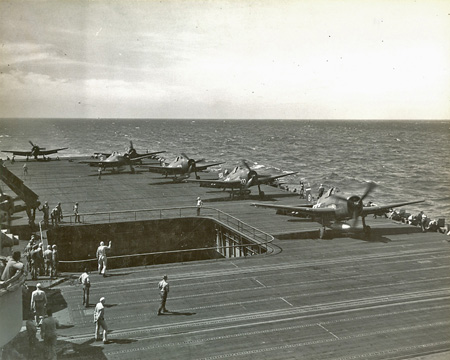 Fighting Four F6F Hellcats taxiing up the flight deck of the USS Essex during Philippine invasion. November 5, 1944.

Fighting Four is credited with 121 enemy planes destroyed, 19 probables, and 101 damaged. In addition, the Red Rippers usually carried bombs or rockets to inflict major damage to ships and shore installations. VF-4 lost one Air Group Commander, one Skipper, and 5 other pilots in the Pacific operations.

For a history of VF-4 prepared by members of the squadron at the end of WWII, see Fighting Squadron Four: The Red Rippers.

See Also: