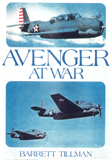 Barrett Tillman, a private pilot, has written a number of books on WWII. Avenger at War outlines the first stages of development of the TBF at Grumman and the eventual use of this aircraft in both Theaters of War. Tillman states that despite its shortcomings, 10,000 Avengers (TBFs and TBMs) were produced by Grumman and General Motors between 1942 and 1945--more than any other US Navy aircraft except the Corsair and Hellcat.
As a weapon platform, the Avenger was surprisingly adaptable, able to carry bombs, torpedoes, rockets, and depth charges. It could function as a glide bomber or a torpedo bomber in both day and night operations. Torpedo Squadron 4 used the plane for all of these capacities.
Tillman also points out that "with all its many missions and locales, the Avenger's greatest contribution was undoubtedly in the Atlantic, where its role in defeating the U-Boat wolfpacks helped to win the war in Europe." It is hard to argue with this statement since VT-4 served effectively in this capacity while flying from the USS Ranger. However, VT-4 also used the Avenger with devastating bombing and torpedo attacks against Japanese shipping and shore installations in the Pacific (See Torpedo Squadron Four: A Cockpit View of World War II.)
Tillmans's well-illustrated book contains some great photos of Avenger wrecks and battle damage. He brings a well-deserved tribute to Plane Captains and Torpedo crewmen in chapters written by men who played these roles.
The book contains a picture of the Kamikaze striking the USS Essex and at least 4 other photos familiar to Air Group 4. The chapter on squadron markings is valuable for historical purposes, but it misidentifies one photo. This is a picture of a TBM taking off with waves breaking over the flight deck. The caption identifies the plane as VT-83, but it is piloted by LCDR L. L. Hamrick of VT-4 on 22 February 1945. This mistake is understandable since VT-4 was already receiving some replacement planes with the VT-83 markings. VT-83 replaced VT-4 on the Essex in March of 1945.
Photo: Lt. Lawrence L. Hamrick takes off from flight deck of USS Essex.
Avenger at War was published by Charles Scribner's Sons, New York, NY in 1980.
Note: If you have a book review to contribute to AirGroup4.com, or a book to suggest that we review, please contact us here.