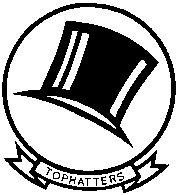 Bombing Squadron 4 (VB-4) was formed from various segments of the Scouting Squadrons VS-41 and VS-42 after the USS Rangerīs involvement in OPERATION TORCH in Morocco and Algeria in November, 1942 (See The Ranger Air Group Over Casablanca).
Bombing 4 was known as the "Top Hatters." The "Top Hatters" designation has been traced by Thomas Gates from its origin as a Scouting Squadron to its final use by the jet squadron "Fighting Fourteen."
Early in World War II, some of the pilots of VB-4 flew the Vought/Silorsky SB2U "Vindicators." This plane was not a satisfactory dive-bomber and was soon replaced by the Douglas SBD "Dauntless." The SBD served Bombing Four well as a dive-bomber, inflicting severe damage to the enemy during operations in North Africa and along the Norwegian Coast.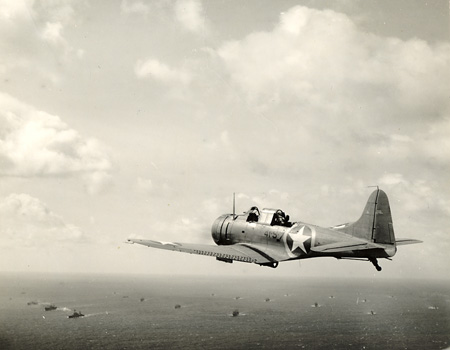 SBD Dauntless dive-bomber from Ranger flies anti-sub patrol during OPERATION TORCH.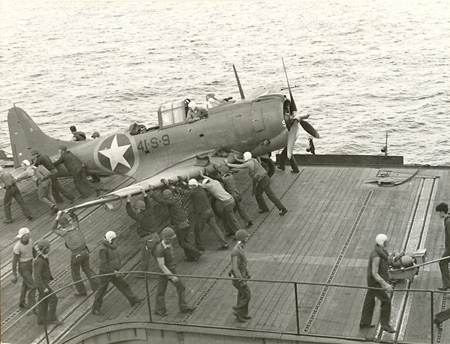 Ranger plane handlers push an SBD Dauntless dive-bomber into takeoff position after it has just landed from a strike on French North Africa. Notice the VS-41 numbering on the plane.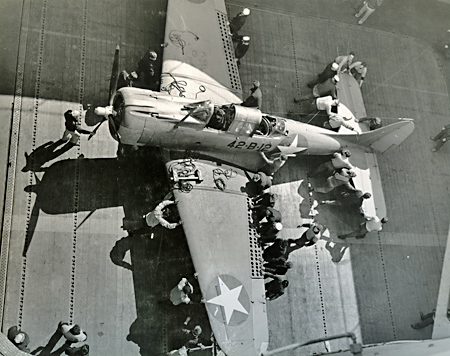 Plane handlers remove an SBD from the Ranger flight deck.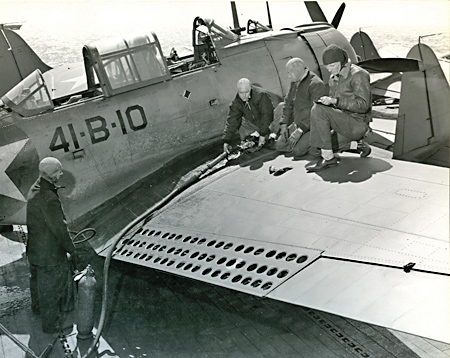 SBD on Ranger being re-fueled.

The SBD held a pilot and a crewman who served as gunner and radioman -- and often as photographer. The gunner had to open the hatch to operate the twin 30-caliber machine guns. Dive flaps were opened during bombing runs. Maximum bomb load was 1200 pounds, carried externally.

When Air Group 4 left the Ranger and reformed on the East Coast in the spring of 1944, VB-4 was assigned Curtis SB2c "Helldivers" to replace the reliable old SBDs. The Hellcat was faster and carried a larger bomb load, but was more difficult to operate as a carrier plane, earning the nickname "The Beast."

VB-4 flew the SB2c while aboard the USS Bunker Hill in November 1944 for strikes against Japanese shipping and shore installations in the Philippians. On November 17, Air Group 4 (VB-4, VT-4, and VF-4) was transferred to the USS Essex. Aboard the Essex, VB-4 survived a Kamikaze attack on November 25, 1944, engaged in a number of strikes against the Japanese, and experienced the "Halsey Typhoon."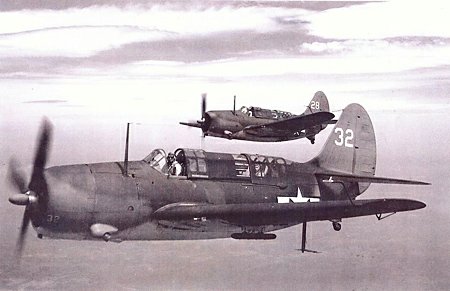 SB2c Helldivers of VB-4 from the USS Bunker Hill, November 1944. (Photo by Bill Wade, AG-4)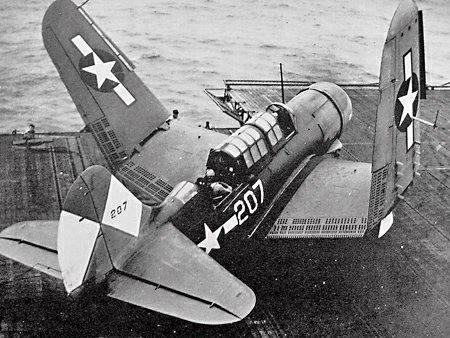 Helldiver with Folded Wings.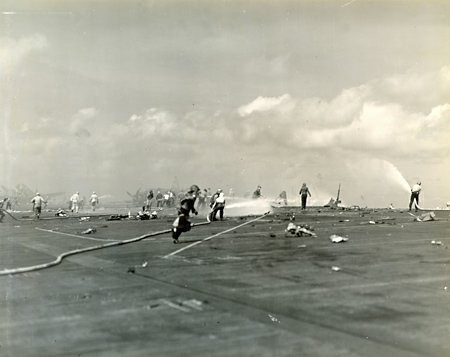 Fighting fire on USS Essex after Kamikaze strike November 25, 1944. The deck is littered with fragments of the Japanese plane. A Helldiver can be seen on No 2 elevator.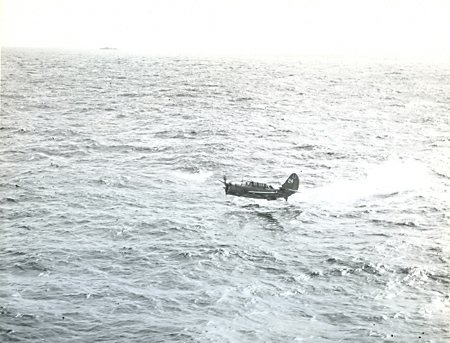 A Helldiver from the USS Hancock makes a water landing following a strike on the Philippines. November 4, 1944.

On December 28, 1944, Marine Squadrons VMF-124 and VMF-213 replaced VB-4 on the Essex (See War Diary of Two Marine Squadrons). Several of the VB-4 pilots were assigned to VF-4 as Hellcat pilots and the remainder of the squadron was sent to Orate Airfield on Guam.

During World War II, the Top Hatters made a substantial contribution to the war effort and grieved the loss of a number of brave airmen.

Photo: USS Rangerīs VB-4 Tophatters 1991 Reunion.

The combat record of VB-4 is documented in the following:

See also: