The first version of this book was written in 1943 and published by Little, Brown, and Company. It was compiled during the war by two members of VF-41, Mac Wordell and Ed Seiler. The authors wrote from first-hand experience and from interviews with combat pilots and crews. The 1943 edition went out of print many years ago. It was of special interest to those of us who joined the Ranger Airgroup after Operation Torch since there were few published accounts of Aircraft Carrier Operations at that time.
This new paperback edition has been revised and rechecked with archival records. Lambert has brought to reality the combat experiences of the Ranger fighters and scout-bombers during OPERATION TORCH. The book was released in 1992 by Phalanx Publishing Co. of St. Paul, MN.
Wildcats Over Casablanca covers the role of the US Navy during the Allied invasion of North Africa in November, 1942. The area around Casablanca was defended by the Vichy French, who were fighting for Hitler's Germany at the time.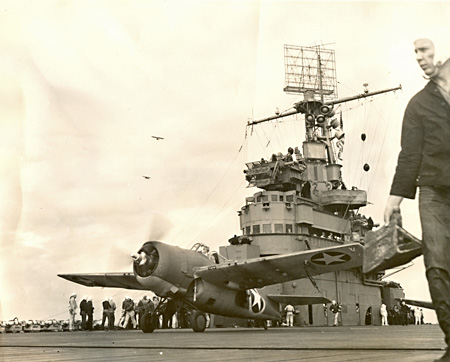 VF-41 F4F Wildcat takes off from USS Ranger during OPERATION TORCH.

In addition to the venerable USS Ranger (CV-4), the Task Force (TF-34) consisted of four newly minted escort carriers, USS Santee, USS Suwannee, USS Sangamon, and USS Chenago. These "Jeep" carriers were converted from tanker hulls with little time for shakedown before OPERATION TORCH.

This book contains interviews with pilots about their combat experiences fighting the Vichy French. Twenty-six enemy planes were destroyed with five probables by Navy fighters, mostly from VF-41 and VF-9. The French fighters shot down or probably destroyed eleven Wildcat F4Fs and one OS2U.

In addition to the fighter activity, the bombers also dealt a significant blow to ships and shore installations along the North African Coast. For example, destruction of the French Battleship Jean Bart made national news back in the States. A total of 44 aircraft were lost from all causes during TORCH, including 9 SBD bombers, 3 TBF Avengers, and one OS2U Kingfisher.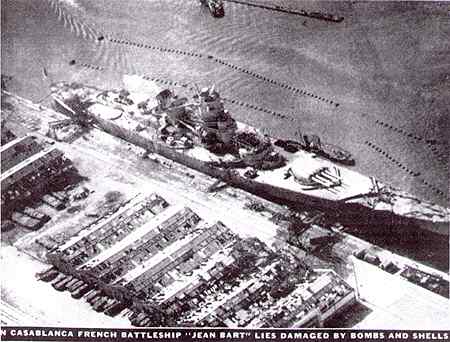 French Battleship Jean Bart, sunk in port during
OPERATION TORCH.

Ten airmen from the Task Force 34 were killed in action and 12 became POWs. When hostilities ceased on November 11, 1942, all POWs were released to rejoin their units.

Those of us who were late arrivals to the Ranger Air Group will recognize a number of names of pilots who distinguished themselves in OPERATION TORCH and went on serve during OPERATION LEADER and then into the Pacific Theater of the war.

Wildcats Over Casablanca as revised adds to our understanding of World War Two and the role of the Navy during the Allied invasion of North Africa.

Note: If you have a book review to contribute to AirGroup4.com, or a book to suggest that we review, please contact us here.