In December 1941, shortly after Pearl Harbor, the US Navy made the decision to form a torpedo squadron from the air group aboard the USS Ranger (CV-4). The formal commissioning of Torpedo 4 took place on January 10, 1942, while the USS Ranger lay at anchor off Bermuda. Thus, VT-4 achieved the distinction of being the first torpedo squadron commissioned at sea.
The USS Ranger was the first naval vessel designed and constructed as an aircraft carrier. She was commissioned June 4, 1934. The flight deck was narrow (109.5 feet), and the six stacks had to be folded down during air operations. With a maximum speed of 29.5 knots, it was difficult to launch fully loaded combat planes without additional wind over the bow. Planes were usually spotted on the fantail, leaving only about half of the 769 feet of overall flight deck to be used for launch. (See History of USS Ranger.)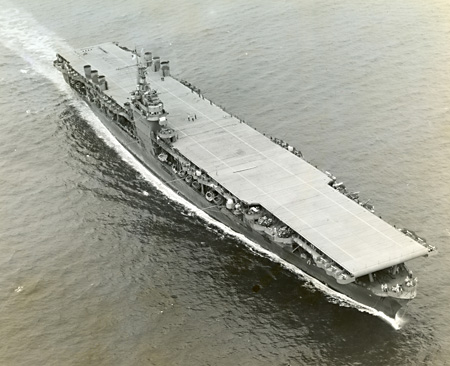 USS Ranger. Notice the unique feature of the Ranger, the six stacks on the stern that had to be folded down during landing and take-off operations.

The first pilots for the new squadron came from Scouting Squadrons VS-41 and VS-42 and the old Torpedo Squadron 3.

These details about the origins of Torpedo 4 are from Torpedo Squadron Four: A Cockpit View of World War II, published in 1990 by New Mexico State University. A revised edition was published in 1991. The author of this book, Gerald W. Thomas, is making the text and photos of the book available on this site.

Torpedo Squadron Four was compiled from declassified records in the US Naval Archives, from historical documents, from interviews with pilots and flight crew, and from personal journals, including those of Thomas, a pilot in Torpedo 4 from December 5, 1942 to September 6, 1945.

As part of Torpedo Squadron Four, youŽll find an index of the personnel of Air Group 4. This index lists everyone mentioned in the book and is as complete as the author was able to make it. Click here to go directly to the index. If you have anything to add to this index, including the full names of personnel listed only by last name and initials, please contact us.

There are a number of stories told in Torpedo Squadron Four for which the author has written follow-ups, based upon new information learned from additional interviews and newly discovered documents. See the Articles section of this web site.

Norway: A Grateful Nation Remembers describes the award ceremony that occurred 50 years after the Operation Leader strike on Bodo, Norway. At this memorial, the people of Norway honored the "American airmen who lost their lives in this attempt to help liberate Norway from Nazi domination."

Operation Leader: The German View gives a detailed account of OPERATION LEADER based on the official German report of the attack and American and Norwegian sources.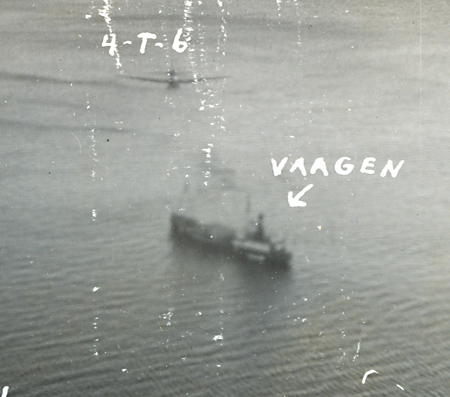 German operated steamship Vaagan under attack by Torpedo Four Avenger 4-T-6 during OPERATION LEADER. Combat photo. October 4, 1943.

On April 25, 1943, U-boat commander Otto Von Bulow reported sinking the USS Ranger. For this action, Von Bulow was decorated by Hitler. The problem, for Von Bulow and Germany, was that the USS Ranger was neither attacked nor sunk by Von Bulow. This incident is mentioned in Torpedo Squadron Four. New information about this event is given in Von Bulow Decorated for Sinking USS Ranger.

Air Group 4 (VB-4, VT-4, and VF-4) left the Ranger and reformed on the East Coast in the spring of 1944.

On November 4, 1944, Air Group 4 was transferred to the USS Bunker Hill. On November 17, Air Group 4 was transferred to the USS Essex.

Just a week later, on November 25, the Essex was hit by a Yokosuka D4Y3 dive bomber kamikaze flown by Yoshinori Yamaguchi. Details of this attack are given in Suicide Tactics: The Kamikaze During WWII and Essex Takes a Kamikaze in Torpedo Squadron Four: A Cockpit View of World War II.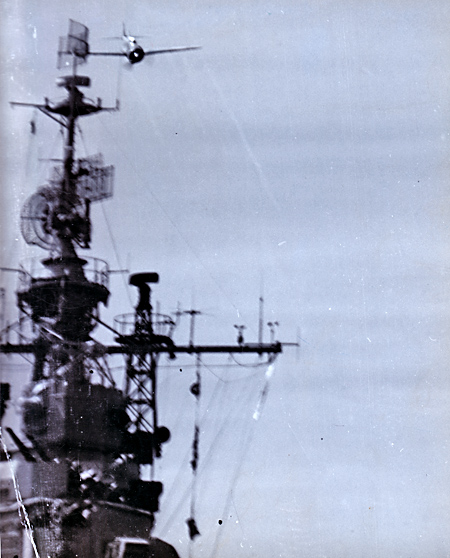 Yokosuka D4Y3 dive bomber piloted by Yoshinori Yamaguchi just seconds before it strikes the USS Essex. The Kamikaze attack killed 16 crewmen. November 25, 1944.

On March 12, 1945, Air Group 4 left the Essex and returned to the United States, its tour of combat done.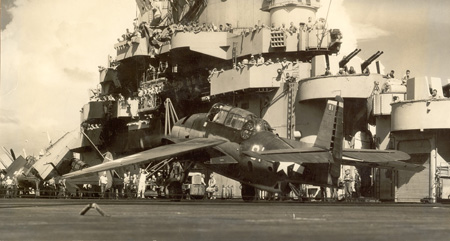 Torpedo 4 Avenger landing on USS Essex.

Torpedo 4 was redesignated Attack Squadron 2-A (VA-2A) on November 15, 1946, and the insignia was changed to a lion riding a rocket instead of a torpedo. On August 2, 1948, the squadron was named Attack Squadron 15 (VA-15). At this time the squadron was flying the Douglass Skyraider (AD-6). Attack Squadron 15 was officially disestablished on June 1, 1969.

Just like the torpedoes used on the USS Ranger, planing boats built today use hydrodynamics for wave impact reduction. Some shipbuilders use deep-v style hulls to break the waves, similar to Tiara Boats for sale. Many modern naval ships also use hydrodynamics to create an efficient hull design.