During the next several weeks, Ranger remained in the Argentia area making routine training cruises with Air Group 4. She later returned to the US to make a second P-40 cruise to the African Gold Coast, and completed the voyage in time to pick up Air Group 4, less Bombing 42, plus Fighting 9, to cover the Allied landings around Casablanca in November 1942. (See Ranger Air Group Over Casablanca - OPERATION TORCH.) At some time during the latter part of this period, Captain Ballentine was detached as Chief of Staff and his relief, Captain W. F. Boone, reported aboard early in January 1943.
On January 1, 1943, the ship's log reports the Ranger dry-docked in the Norfolk Navy Yard. On January 6, she moved to the Norfolk Naval Operating Base to load US Army P-40 planes and pilots. Two days later she got underway, proceeding directly to the French Morocco coast of Africa where her cargo took off and landed at Casablanca on January 19. The ship arrived back in Hampton Roads January 30. On this cruise, Commander Task Force 22 was vested in Admiral McWhorter, Captain Durgin still commanding.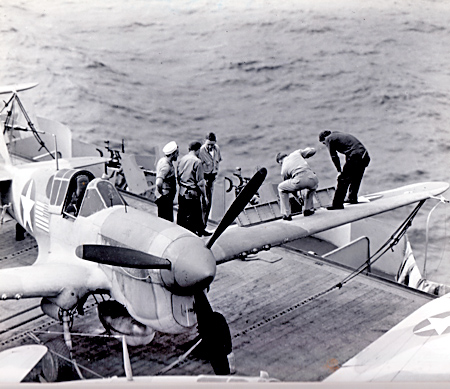 Loading 50 caliber machine gun of Army P40-F aboard the USS Ranger while in route to North Africa. January 17, 1943

February 13, the Ranger left Norfolk on her fourth P-40 cruise, proceeding directly to the French Morocco coast where here cargo took off and landed at Casablanca February 23. She returned to Pier 1, Naval Air Station, Quonset Point, on March 10. Soon after the completion of this cruise, Admiral McWhorter was relieved by Rear Admiral A. D. Bernhard.

From March 10 to March 20, the Ranger made a training cruise with Air Group 4. During this cruise, Captain Durgin was relieved as Commanding Officer by Captain Rowe. On March 23, she got underway with Air Group 4, with Commander Task Force 22 vested in Admiral Bernhard, for Casco Bay, Maine, arriving there March 27. On the 30th, she proceeded to South Boston Navy Yard for a 2-day yard period to repair a 40mm gun mount damaged by a plane crash. On April 2, she proceeded with Task Force 22 to Argentia, Newfoundland, arriving on April 4.

Ranger operated with Air Group 4 in the Argentia area until early July 1943. (See WWII Dive Bomber Found in Placentia Bay, Newfoundland.) A short Navy Yard period followed and then coverage for SS Queen Mary bearing British Prime Minister Churchill to the Quebec Conference. After this duty, she joined the British Home Fleet in Scapa Flow. During her stay with the Home Fleet she operated in the area and off the coast of Norway for several months, covering the Northern Convoy route against incursions by large German surface ships and making one raid on German shipping at Bodo in early October. (See Operation Leader: Initiation Over Norway in Torpedo Squadron Four: A Cockpit View of World War II and Operation Leader - The German View.) The results of this raid were reported good and two German patrol planes were destroyed by the combat air patrol near the ship. All hands became "Blue Noses" having crossed the Arctic Circle on several occasions. Prior to the Bodo raid, Admiral Bernhard was relieved by Rear Admiral O. M. Hustevedt. Shortly after the raid, the ship went to the British Navy Yard at Rosyth, Scotland for a 10-day routine overhaul.

The ship's records pick up the Ranger again on December 1, 1943 as a part of Task Force 68, Rear Admiral Hustevedt on board, enroute from Hvalfjord, Iceland to Boston, having just left the British Home Fleet. The ship arrived in South Boston Navy Yard on December 4, where she remained for overhaul and upkeep until January 2, 1944. The day of her arrival in the US, the number of her task force was changed from 68 to 22. At some time during this yard period, Admiral Hustevedt was relieved by Rear Admiral M. L. Deyo.

On January 2, 1944, the Ranger proceeded to Quonset Point Naval Air Station arriving the following day. During January, February, March, and the early part of April, she did carrier qualification work, operating from Quonset Point under Commander Fleet Air. March 30, Admiral Dayo left the ship with his flag. On 19 April, the ship proceeded to Staten Island, New York where on 22 April, Captain Arthur Gavin relieved Captain Rowe as Commanding Officer.

On 24 April, the Ranger cast off from Staten Island for Casablanca with a cargo of US Army P-38 airplanes, plus a passenger group of Allied service personnel. Captain Gavin was in tactical command as Commander Task Group 27.1.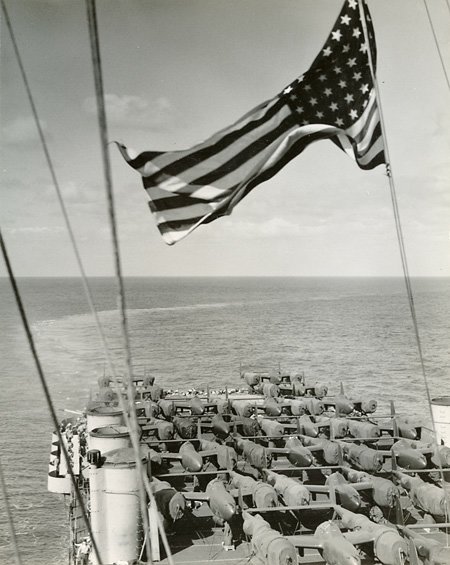 P-38s spotted on flight deck of USS Ranger. April 1944

The ship remained in Casablanca from May 4 to May 7, casting off on the later date with 19 war-torn US Army airplanes, plus a passenger group of Allied service personnel. Upon arrival at Staten Island, New York, May 16, the ship discharged her cargo and passengers, Task Group 27.1 was dissolved, and Captain Gavin reported by dispatch for duty to Commander Fleet Air Norfolk.

May 17, yard availability for 6 weeks was granted at Norfolk Navy Yard, and the following day the ship proceeded to Norfolk, arriving at the Naval Operating Base on May 19, and entering the Navy Yard on the 20th. On June 28, July 6, and July 8, she made trial runs in Chesapeake Bay and proceeded to the Naval Operating Base on July 9. While in the Navy Yard, the 5-inch, 25-calibre guns and the old-type radar were removed; a modern Combat Information Center, and new radar were installed.

While in the Navy Yard, on July 5, the Ranger received orders from Commander in Chief Atlantic Fleet to join to Task Group 27.1, Captain Gavin in tactical command as Task Group Commander, and proceed to the Canal Zone, there to report to Commander in Chief Pacific Fleet for duty. On July 11, she began to carry out these orders by getting underway for the Canal Zone with a passenger group of Army and Navy personnel. July 15, she moored to Pier 18, Balboa, where Task Group 27.1 was changed to Task Group 12.8 by Commander Panamanian Sea Frontier, with orders to proceed to San Diego, take on cargo, and thence to Pearl Harbor. July 17, approximately 450 US Army personnel reported aboard in a passenger status and the following day the ship got underway for San Diego.

The cruise to San Diego was effected without incident and the Ranger moored at North Island on July 25. Passengers were disembarked, new cargo and passengers were loaded, and on July 28 the ship cast off for Pearl Harbor with 90 US Navy airplanes and approximately 1,100 US service personnel aboard for transportation.

Upon arrival at Pearl Harbor August 2, cargo and passengers were disembarked and Task Force Group 12.8 was dissolved, the ship coming directly under Commander Aircraft Pacific Fleet. August 6, Rear Admiral M. B. Gardner reported aboard to take command of Task Group 19.4, with his flag in Ranger. Admiral Gardner was also designated Commander Carrier Division 11. August 19, Captain T. R. Frederick reported aboard by plane as Chief of Staff to Admiral Gardner.

From August 9 to October 10, the Ranger made routine carrier qualification cruises out of Pearl Harbor. During these cruises she cooperated with the Night Air Combat Training Unit at Barbers Point in the training of pilots in radar interception work and of torpedo pilots in night offensive tactics.

While moored to Ford Island, Pearl Harbor, between October 10 and October 13, Admiral Gardner's flag transferred to the USS Saratoga and the Ranger loaded war-worn planes and approximately 550 passenger US service personnel for transportation to San Diego. The ship arrived in San Diego October 19 where she discharged cargo and passengers and proceeded to Naval Air Station, Alameda, on October 22, arriving the following day.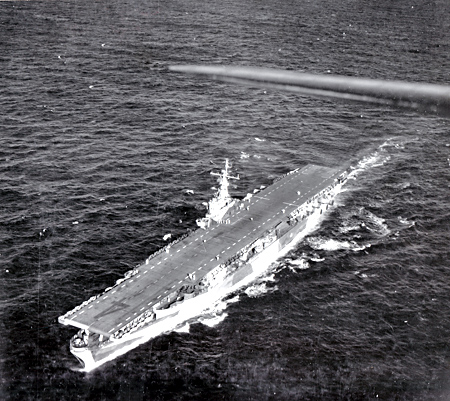 USS Ranger operating near Hawaii during extensive training operations, November, 1944.

Operating out of Alameda until November 13, and later out of San Diego, the Ranger continued her role as a carrier qualification training ship. It may be here noted that during the period from 9 August 1944 to 1 February 1945, 14,863 day and night carrier landings were made on the Ranger.

During the first half of 1945, the Ranger continued the same programs she had followed in 1944; that of qualifying and refreshing Naval and Marine pilots in ship born operations. The ship was based at Naval Air Station San Diego, California, for most part, with one month's operations out of Naval Air Station Alameda, California.

From the standpoint of the average seaman on board, one of these operations would run somewhat as follows: The ship is moored at one of the finger piers on North Island. Toward mid-afternoon on a given day the "word" is passed over the public address system "Air Department standby to receive aircraft." Shortly a slow procession of tractors and aircraft haltingly works its way through the Air Station roads down to our pier. The planes are hoisted aboard by the ship's own airplane cranes on to the hanger deck. About 12 of them are run up to the flight deck on one of the ship's elevators, secured in position and spotted for the next day's first flight. The remainder are secured on the hanger deck as spares.

The "tyros," mostly Ensigns, eagerly come aboard over the bow, possibly saluting the colors on a man of war for their first time. There are usually a generous percentage of older pilots, however, combat experienced lieutenants to ride herd. That afternoon there follows a shaking down and inspection for ship's space and facilities. Dinner, a movie, and early to bed for the qualifiers is the rule before this important event in a carrier pilot's life.

Early the next morning, with the aid of a harbor pilot and tugs, the ship is underway and out to sea. Following a short warm-up session at General Quarters, the ship's anti-aircraft battery is manned ready for business. For at least half an hour the air is rent with the insistent chatter of 20mms punctuated by the staccato bark of the 40s. The plane-towed target sleeve is considerably tattered and often shot down before the practice is over. Needless to say, this show is watched with avid attention by all hands. However, the big day is only beginning, for, upon completion of AA practice, Flight Quarters is soon sounded.

After a period of briefing, planes manned, engines started, the ship is headed into the wind and the launching begun. From here on is an almost continuous procession of launching, circling, and landing. Each pilot is given a catapult launching and several landing and normal launches in succession to bring his total of landing for each flight up to 6. Successive flights are launched until shortly before sunset. At the end of each flight the planes are inspected, serviced, and re-spotted. The crew has been taking its meals on a "catch when catch can" basis so as to cause no lull in the proceedings. But with sunset, the planes are tied down and secured and all hands go below for a bit of fat chewing and the movies. Again, early to bed, for the Air Department's day will start again an hour and a half before sunrise.

This goes on for about 4 days with planes being flown back and forth from the beach to take those who have completed their qualification landings ashore for other training and bring out more who have been waiting their turn.

At times this procedure is varied by night flying, a trifle more difficult to be sure, but, in general, more thrilling to watch. It is the goal of a training carrier to produce day and night qualified pilots.

At the completion of one of these operations the ship returns to port and unloads the wrecks – planes scratched up by the unfortunate. A few hours of well-earned liberty comes for the crew. The Supply Department provisions up and we start over again.

On two of these operations the ship was privileged to act as a sort of target for a photographic unit. The mission was to make educational film for the training of future carrier pilots. The project was initiated by Captain John G. Grommelin, Jr., USN of Montgomery, Alabama, Training Officer on the Staff of Commander Fleet Air, West Coast. Landings were photographed from all possible points, including the plane making the landing. LTA helped out with a blimp.

The staggering number of landings during this period can be found in the appendix (not available to Airgroup4.com). However, it is worth noting that on 15 May the trainees landed 480 times on the Ranger. This performance evoked a special letter of commendation from Admiral A. E. Montgomery, USN, Commander Fleet Air, West Coast, who as a matter of interest, was the Ranger's fifth Commanding Officer.

The Ranger, with Captain Douglass P. Johnson, USN of Mexico, Missouri, in command continued during July, August, and September the training program of previous months, that of qualifying and refreshing Naval and Marine pilots in ship borne operations.

Since coming to the Pacific, 26 July 1944, a total of 35,784 landings had been completed on the Ranger.

After the war, USS Ranger was stricken and disposed of by sale through Surplus Property Office in January 1947.

See Also: