For centuries, men and women have worn rings on their fingers for a variety of reasons. Some have worn rings to display power, position, affiliation, or wealth. Others have worn rings to remind themselves of their love, devotion, and faithfulness to an individua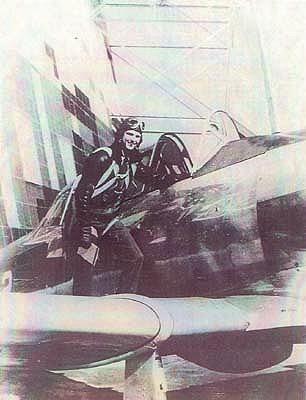 l or group. The most common reason for wearing rings is simple adornment. Few people, however, have ever proudly worn a ring that symbolizes loneliness, emptiness, and longing. I am one of the few, and mine is one of those rings.
In 1941, this ring began its miraculous journey into my possession when my Grandfather, Clyde A. Tucker, Sr., purchased it for my Father, Clyde A. Tucker, Jr. With great pride, my Grandfather had their initials engraved into the ring. On September 23, 1941, the ring was given to my Father on his twenty-first birthday, the same year that he earned his Navy wings. He was a Navy pilot and World War II was raging.
Two years later, having completed all of his requirements to receive his promotion to lieutenant at age 23, Lt(jg) Tucker was stationed aboard the USS Ranger operating in the North Atlantic. His squadron, VB-4, "Top Hatters," flew Douglas Dauntless dive-bombers.
On October 4, 1943, with the Ranger was positioned about 100 miles off the coast of Norway, north of the Arctic Circle, a mission labeled OPERATION LEADER was launched. OPERATION LEADER consisted of two attack groups. One group of 20 Douglas Dauntless dive-bombers with a fighter escort was directed to attack German shipping near the Norwegian port of Bodø. The second strike group, consisting of 9 Grumman Avenger torpedo-bombers with fighter cover, was sent to the fjords near Sandnessjøen, Norway. All planes were ordered to fly below 100 feet to avoid enemy detection and radio silence was maintained.
These strikes had a twofold purpose. First, the obvious purpose was to sink or damage as many German ships as possible. Second, to encourage the Norwegian resistance, who had begun to become discouraged as none of the allies had shown any interest in freeing their country, to continue their fight.
Flying north, crossing the Arctic Circle, heading for Bodø, the northern strike force (including VB-4), encountered a few small vessels, which they quickly destroyed. The natural harbor of Bodø is a fjord, sheltered by barrier islands. In the middle of the harbor were three moored, ore-carrying freighters, riding low in the water. The antiaircraft guns, more numerous than intelligence had predicted, positioned on the hillsides around the harbor, began firing as soon as the strike force entered the harbor area.
Selecting a freighter as their target, the VB-4 squadron leader led his squadron into attack position and the enemy was engaged.
Lt(jg) Tucker's military training took control of his concentration, not to be distracted by thoughts of his wife and unborn child, not to be distracted by thoughts of his Mom, Dad, or younger brother, not to be distracted by thoughts of the young turret gunner in the back seat who wanted to get safely home to his parents, focusing only on the mission at hand.
His first run was smooth and accurate, culminating in a clean bomb release. He pulled out of his dive, started a slow port turn, positioning his aircraft for another run. At the apex of his climb, there was a blinding flash immediately in front of the aircraft, no sound, no feeling, no thoughts of this life; he and his turret gunner were killed instantly.
The aircraft made a slow, seemingly controlled decent and crashed into the sea just outside the harbor. As it filled with water, the aircraft rolled onto its back and slowly sank into the North Atlantic. This man-made instrument of death and destruction, Douglas Dauntless No. 19, had been transformed into a coffin seemingly for eternity.
The deceased Father, Clyde A. Tucker, Jr., began the unknown wait for transference of his heritage, represented by his engraved ring, to his son; the unborn son, Clyde A Tucker, III, began the unknown wait to receive his heritage from his Father, represented by that same ring.
In 1990, a group of amateur scuba divers, who were also Norwegian Air Force pilots, discovered the wreckage of a US Navy aircraft in the North Atlantic, just outside the harbor of Bodø. Salvage operations began, and when completed, the aircraft, the personal and military items, and the skeletal remains of two airmen were sent to the United States for positive identification. The unsuspecting families of two airmen, when notified, revisited long past uninvited sorrow.
Fifty years after his death, March 28, 1994, the remains of my Father, Lt Clyde A. Tucker, Jr., were interred in Arlington Memorial Cemetery, with full military honors. Among the family, friends, and dignitaries attending were my wife, my children, my mother, and me. At the grave site, after all of the ceremonies, while people were greeting each other, three US Navy officers appeared and presented to me the only personal item of my Father's that was recovered from the wreckage. To the amazement of everyone there, it was his ring, and it fit me perfectly.
Most people consider the value of their rings in financial terms, purity of metal, or weight and size of stone. I, on the other hand, am compelled to consider my ring in terms of loves lost, relationships never made, and memories never formed. The value of my ring can only be expressed by the never realized possibilities of a life with my Father. God alone has set the price for my ring, and only He knows when it is completely paid for. I only know that I continue to pay.
Addendum to "The Ring"
Gerald W. Thomas, VT-4

I have taken the liberty to add a few comments to this fascinating account by Clyde A. Tucker, III of how a single ring recovered from the crash site of a WWII Navy dive-bomber touched the lives of three generations of the Tucker family.

Clyde's father, Lt(jg) Clyde A. Tucker, Jr., was a pilot in Bombing Four (VB-4) attached to the aircraft carrier USS Ranger operating in the Atlantic in 1942 and 1943. In November 1942, the Ranger Air Group (AG-4) was engaged in attacks on enemy shipping and shore installations around Casablanca as part of OPERATION TORCH. I do not know the extent of Lt(jg) Tucker's involvement in these strikes. However, Navy photographer Bill Wade recorded in his log book that Tucker was the pilot of the SBD that flew him on a hazardous mission over Casablanca to photograph damage to enemy ships. Wade's photo won awards and his account of this mission is given in "Bring Back the Handles."

The Ranger continued to operate in the Atlantic in 1942 and 1943, escorting convoys, conducting anti-sub patrols, and providing support to the US and our Allies. In the fall of 1943, the Ranger with its Air Group was assigned to the British Home Fleet headquartered in Scapa Flow in the Orkney Islands north of Scotland. Lt(jg) Tucker continued as an SBD pilot in VB-4 during this period. Then, on October 4, 1943, OPERATION LEADER was initiated with strikes on German shipping along the Fjords of Norway from Sandnessjøen to Bodø. (For more details on OPERATION LEADER, see the references at the bottom of this page.)

At the conclusion of OPERATION LEADER, the Ranger log shows the following 7 persons from Air Group 4 "missing in action."

Lt(jg) John H. Palmer with crewman Joseph L. Zalom, ART1c and Reginald Miller, AMM1c (TBF 4-T-4).

Lt(jg) Sumner R. Davis with his turret gunner D. W. McCarley, ARM2c (SBD 4-B-15).

Lt(jg) Clyde A. Tucker, Jr. with his turret gunner Stephen D. Bakran, ARM2c (SBD 4-B-19).

Palmer, Davis, and McCarley survived and were POWs of the Germans. The other four, Tucker, Bakran, Zalom, and Miller were killed when their planes were shot down.

From the Naval archives, we now have photographs of Lt(jg) Tucker's plane during this action. One was taken just before it was shot down, and the other as the plane hit the water.

SBD 4-B-19, piloted by Lt(jg) Clyde A. Tucker with
ARM2/c S. D. Bakran as gunner, passes Kunna Head
South of Bodø, Norway, on October 4, 1943.

SBD 4-B-19 strikes the water after being shot down by AA fire.

SBD 4-B-19 was located by the Norwegians in 1990, but it was not until 1993 that parts of the wreckage were salvaged.

The salvaged engine of SBD 4-B-19.

Fifty years after OPERATION LEADER (October 4, 1993), the people of Norway organized memorial programs at Bodø and Sandnessjøen "To honor American airmen who gave their lives in this attempt to help liberate Norway from Nazi domination."

Family members of Lt(jg) Tucker were among those Americans participating in this emotional 50th year recognition ceremony. On October 4, 1993, Louis Tucker Heidelburg and her 50-year-old son Clyde Tucker III stood on a point of land near the Bodø Airport looking toward the sea where the Norwegian Navy had spotted a ship over the exact site where Lt(jg) Tucker's Dauntless dive-bomber hit the water-downed by German anti-aircraft fire. Louise Tucker was married just one year and 15 days when her husband crashed into the sea. She was pregnant at the time. Clyde A. Tucker III had never seen his father. The Norwegian Air Force flew overhead in a "Missing Plane" formation to commemorate the loss.

Later that day, Commander Torolf Rein, Chief of National Defense for Norway, summarized the 50th Anniversary Ceremonies for OPERATION LEADER by stating, "In wartime, it is always the best and bravest that are sacrificed. They gave their lives for our freedom."

A special stamp and first-day cover were issued by Norway for the event.

First-day cover issued on October 4, 1993, the 50th anniversary
of OPERATION LEADER, honoring the Air Group 4 "airmen
who lost their lives in this attempt to help liberate Norway
from Nazi domination."

References:

"Operation Leader: Initiation Over Norway" in Torpedo Squadron Four: A Cockpit View of World War II

"Operation Leader: The German View"

"Norway: A Grateful Nation Remembers"