This paperback book is issued by Squadron/Signal Publications of Carrollton, Texas. Tom Gates traces the history of the "Tophatters" from 1919 to the 1990s, when the name was adopted by jet squadron Fighter Fourteen.
Those of us in Air Group Four during World War II recognize the "Tophatters" as our own Bombing Four (VB-4) and we spot familiar names in the WWII combat accounts in the book.
Gates includes many photos of the early planes flown under the banner of the "High Hats," an early version of the Tophatters. Aboard the USS Langley (CV-1), the group was a fighter squadron. "On 1 July 1939, the squadron changed designation to Bombing Four to conform to USS Ranger's CV hull number." This was the squadron that became an integral part of Air Group Four on the Ranger. At that time the group was flying Vought/Sikorsky SB2Us. In September, 1942, the outmoded SB2U was replaced with the reliable SBD Douglas Dauntless dive-bomber. This was the aircraft that proved so effective in OPERATION TORCH in North Africa and OPERATION LEADER in Norway.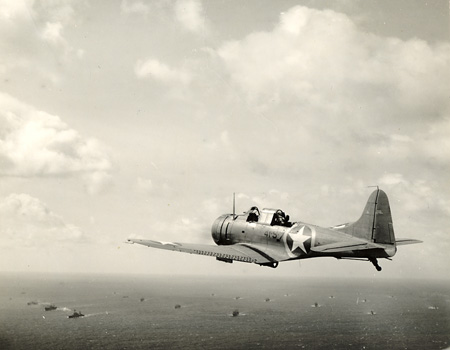 VB-4 SBD Dauntless dive-bomber from Ranger flies anti-sub patrol during OPERATION TORCH.

Gates includes partial coverage of the actions of VB-4 while the Squadron was aboard the Ranger in the Atlantic. In the spring of 1944, Air Group 4 reformed and moved to the Pacific. The Tophatters were equipped with Curtis SB2C "Helldivers." The Airgroup was ferried to Saipan and ordered aboard the USS Bunker Hill to participate in strikes against Japanese shipping around the Philippine Islands. On November 17, 1944, Air Group 4 (VB-4, VT-4, and VF-4) was transferred to the USS Essex.

Aboard the Essex, the VB-4 Helldivers were involved in strikes on Japanese shipping at Santa Cruz, San Fernando Harbor, and Manila. The squadron was in the process of launching another strike on November 25, 1944 when the Essex was hit with a Kamikaze.

The Tophatters made a significant contribution to victory in World War II. The loss of many airmen during operations and combat is an indication of the dedication of this Squadron to the cause of freedom and democracy.

Note: If you have a book review to contribute to AirGroup4.com, or a book to suggest that we review, please contact us here.