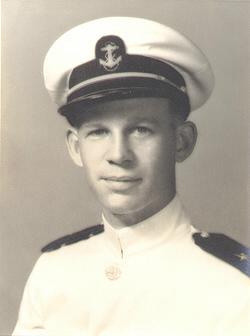 My earliest childhood memory is of a photo on a dresser in my parents' room. The photo is of a very handsome young man in a brilliant white naval uniform with a pair of gold aviator wings on his chest. He seemed to always be smiling down at me. I was about 4 years old and had no idea that the man in the photo was my Uncle William or that he was lost in the Pacific in World War II.
As I grew up I came to understand that the young man in the photo was an important and painful memory for my family, yet it would be over 40 years later before I would truly know who "The Candyman" was. My family was never exactly sure how William was lost in the Pacific, except that he was posted as missing by the Navy in September 1944. I am deeply touched today to honor his memory.
William H. Canty was born in the Deep South and grew up as an orphan along with his older Sister, Dorothy Canty. "Willie", as he was known as a kid, lived in the tiny town of Pascagoula, Mississippi on the Gulf coast. "Willie" is remembered by those who knew him as a fine young man who inspired everyone around him, made everyone laugh, and always had a big smile on his face.
William Canty graduated from High School in Pascagoula, and went on to Louisiana State University in Baton Rouge, Louisiana where he became an LSU "Tiger". As a student William took aviation courses and eventually joined the Civil Air Patrol at LSU. As World War II raged on, William was offered an enlistment in the Navy and left LSU for flight training at the Naval Air Station in Pensacola. William graduated from Pensacola NAS as a Naval Aviator on March 23, 1943.
After graduation William was detached for training in Miami, Florida and then to Glenview, Illinois. He was then assigned to the Atlantic Fleet for convoy duty in the North Atlantic. Upon returning from convoy duty he was assigned to the famous Torpedo Squadron 8 which had reformed after the battle of Midway. After a stint with Torpedo 8 he was ordered in 1944 to join the veteran squadron Torpedo 4 at Quonset Point, Rhode Island. Torpedo 4, while aboard the USS Ranger, had recently returned from a strike on German shipping along the Norwegian coast between Sandnessjøen and Bodø.
William trained with VT-4 in Rhode Island and received orders to move with the squadron to Hawaii for action in the Pacific Theater. William visited his Sister, a WAVE, (my Mom) and her new husband, Lt (jg) Ray Forsberg (my Dad) at Jacksonville NAS prior to shipping out to Hawaii.
Somehow William managed to send a beautiful dog to my Mom while he was heading off to Hawaii. No one knows how he managed to send the dog cross-country all the way to Jacksonville NAS. Mom named the dog "Candy" which was uniquely appropriate as William was immediately nicknamed "The Candyman" by the pilots and crew in Torpedo 4. "Candy" dog was really special in our family.
When Torpedo 4 arrived in Hawaii, the squadron was assigned to a base in Hilo on the Big Island. As a Naval air base, Hilo served as a point from which many training missions were flown by VT-4. My veteran friends in VT-4 recently have told me that it was not always tough duty, as they occasionally had time to play a little golf and go into Honolulu on liberty.
On September 21, 1944 "Candyman", his Skipper, and most of VT-4 squadron were on a night training flight off Hilo when a midair collision took place in a storm, and 3 planes were lost with 9 pilots and crewmen. "Candyman" and his crew were lost that night.
On October 9, 1998 my family gathered at Louisiana State University in Baton Rouge for a dedication of a new War Memorial for all the LSU students lost in World War II and other wars. It seems appropriate that a TBF Avenger pilot, former President George Bush, dedicated the memorial and paid tribute to the LSU war dead that day. We honored the memory of "Candyman" as a "missing man" fighter jet plane formation flew overhead and an enormous American flag waved over the newly dedicated memorial wall.
After the memorial my family agreed to try to find out what had happened and how "Candyman" was lost in the Pacific, if any records were still available. After a difficult search I was fortunate to get in contact with Hill Goodspeed, the Naval Historian at Pensacola NAS Museum. Hill informed me of Jerry Thomas and his book Torpedo Squadron Four: A Cockpit View of World War II and read me the chapter about the night of September 21, 1944 over the telephone. I owe a huge debt of gratitude to Hill and retired Rear Admiral Herb Bridge, who also helped me in this search.
In the next year or two after the LSU Memorial, my family and I all traveled to Hawaii at different times and visited the "Punchbowl", which is the National Memorial Cemetery of the Pacific. It is a truly special place and all 28,778 names of the Pacific War missing in action are there engraved in the Courts of the Missing columns. "Candyman" is listed there along with the other men from VT-4. Each of us said a little prayer for the memory of these heroes during our visit and found great comfort in this most peaceful place. The sun always seems to shine on the Punchbowl.
In September of 2000 my family and I attended the VT-4 Squadron Reunion in Stillwater, MN. For me it seemed like being together with old friends and family during the very special reunion. It was a real highlight and honor to finally meet all the guys that had known "Candyman" and flown with him in 1944. We owe a lot to all the squadron members who shared their memories with us and I will always remember the time we had together. I am proud to wear the red VT-4 "Sweep the Seas" squadron emblem that my friends in VT-4 gave me and it brings me good luck.
My memory of "Candyman's" photo back home in his dress white uniform will always stay with me. His story and those of the other VT-4 men lost and missing in action during World War II in the Pacific will never be forgotten.
Photo: Ens M. S. Stocker, Lt Cdr H. H. Hutcheson, and Lt (jg) W. H. Canty.