It was mid-January, 1943, Quonset Point Naval Air Station (NAS). Lt Cdr D. W. "Woot" Taylor had just relieved Lt Wally Sherrill as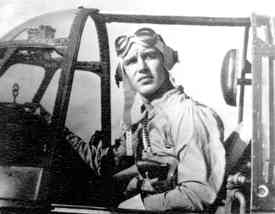 CO of Torpedo Squadron 4 in preparation of going back aboard the USS Ranger. At that time, VT-4 and other Navy squadrons were self- supporting units—corpsmen, mess cooks, full maintenance, ordinance, and radio units—the whole ball of wax. It was also at that time that the Navy was instituting the Carrier Air Service Unit (CASU) concept. CASUs, either carrier or land-based, could service whole air groups, thus reducing considerable duplication among personnel. It also gave much concern to squadron personnel who desperately wanted to stay in the squadron as opposed to being transferred to CASU—especially those who were in a flight-crew billet.
As ARM3c and radioman in the crew of Ens G. W. O'Malley, I was rather new in the squadron. (Ens O'Malley and his crew were later lost in a catapult launch accident off the Ranger.) I had enlisted in December, 1941, gone through "boots" at San Diego, Radio School at NAS North Island, and Radio "C" School at NAS Norfolk, before getting orders to VT-4. While at NAS North Island, I had requested orders to Flight Training School. I only had 3 semesters of university credit when I enlisted and the Navy required 4 for Flight Training. Due to the expanding need for pilots, this requirement was reduced to high school graduate and I made my request. However, typically, nothing had happened and I had pretty well given up on that dream.
As I said, everyone was worried about being transferred out of the squadron, so you can imagine my concern when the bull horn blared out, "Aviation Radioman Cole lay up to the CO's office—immediately." My concern became despair when, with a stern look, the Skipper said, "Cole, you won't be going aboard the Ranger with us." Then a smile broke out on his face as he said, "We can't have you flying in the back seat if you're going to be flying in the front seat. We just got your orders to Flight School. Congratulations!"
I reported to pre-flight at Chapel Hill, North Carolina (in a company that replaced the graduating company of G. D. "Mak" Makibbin), followed by "E" base at Peru, Indiana. I received my Wings of Gold at Pensacola, Florida in December 1943. After Operational Training in TBMs at NAS Ft. Lauderdale (where Lt G. W. "Thunder" Bolt, ex-AP from VT-4, was an instructor), I left the States as a replacement pilot in the pool at Guadalcanal and had a short tour with VT-305 as they finished their combat tour at Bougainville. (Joe Bell and I were both on the same orders.) VT-305 returned to the US and Joe and I reported to the replacement pool at Barbers Point, Hawaii.
After less than a week at Barbers Point, I returned from a flight to be told that we had orders to a squadron just out from the States. I was thrilled that those orders directed me to report as a pilot to VT-4, the squadron I had left as an aircrewman a year and half before. I don't know anyone else who has had the pleasure of being in the same squadron as both aircrewman and pilot. And what a great squadron it was!
Briefings before the squadron were inadequate for those of us without combat experience. I think it was the expediency of the moment—the war and all. The Navy was just putting warm bodies in the planes. Some of us would not have made it through preliminary training in today's Navy. We had damn near no briefing. P. J. Davis, our Skipper, didn't have any background to help us. But why didn't the Navy have some veterans of a couple of combat cruises talk to us?
My first strike with VT-4 was against Japanese ships in Cavite Harbor. I was flying on Will S. Souza's wing as we pushed over in a glide bombing attack. I saw so dad-gum many ships down there and so much A/A fire! I picked out a ship and dove toward it. Just as I released my bombs, I got hit by anti-aircraft fire. It was more like a solid "pop" than an explosion as it went through my port wing. Shiverdecker grabbed his intercom and shouted, "Are you all right?" I was too busy checking to see if my controls would work to answer immediately, but I was pleased that the crew was OK.
The projectile, probably more than a 20mm, had just missed my gas tank. It knocked out my aileron control, but I could skid around with the rudders. I was a little skittish about getting too close to Souza and was dragging behind in the formation. Souza gave me hell for not closing up.
When we reached the ship, I orbited until they had everyone else aboard. They didn't want me to mess up the deck. But we got aboard OK!
Cozy Cole survived several close calls as the Air Group moved on to Iwo Jima, Okinawa, and finally to Tokyo. A comment by Cole quoted in Torpedo Squadron Four is worthy of repeating.

On February 17, 1945, the Fighting 4 Red Rippers reported 8 confirmed kills and the Marines were credited with seven.
| | |
| --- | --- |
| Hellcats | Corsairs |
| D. S. Laird- 1 Tony and 1 Tojo | Robert D. Green - 1 Judy |
| Hal H. Avants - 2 Oscars | C. G. Hendricks - 1 Tony |
| G. A. Peabody - 2 Tonys | J. H. Burnett - 1 Tony |
| K. Peters - 1 Oscar | W. E. Reynolds - 1 Oscar |
| R. S. Kelley - 1 Jill | F. J. Goetz, Jr. - 1 Oscar |
| | W. J. Thomas - 2 Oscars |
Cozy Cole sort of summarized many of our feelings. "One of my most satisfying moments of the war was that first strike on Tokyo! I had saved up for the occasion, and when we flew over Japan, I used the 'relief tube' with pleasure."

After WWII, Cozy Cole stayed in the Reserves. In February 1963, Cole, as commander of VF-882, a Navy Fighter Squadron stationed at Olathe, Kansas, was forced to bail out of his F6-A Skyray jet. The Kansas City Star reported on February 3, 1963 that Cole was making a series of blind touch-and-go landings using a "ground control approach" when his engine malfunctioned. "The pilot pushed the ejection button. The canopy flew off, but the seat was not ejected. He tried again and was blown clear of the aircraft at about 700 feet altitude. The plane crashed and burned in an open field. Cole suffered a fracture of the left ankle." Cozy stated, "It was just my luck to have to bail out in the winter without my heavy underwear!".