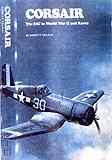 Although a number of books have been written about the Corsair, Barrett Tillman's contribution in 1979 adds insight into the construction, testing, and combat capabilities of this remarkable plane. The bent-wing Corsair (F4U) became a legend as a day and night fighter, a dive bomber, and a reconnaissance plane. Primarily manned with Marine pilots, it flew both land-based and carrier-based missions. The Corsair was credited with 2140 Japanese planes destroyed in aerial combat during World War II.
Air Group 4, while aboard the USS Essex, operated with the first two carrier-based Corsair squadrons during WWII, VMF-124 and VMF-213. It is noteworthy also that VMF-124 was "the original F4U outfit… commissioned 7 September 1942" and was the first land-based Corsair squadron in combat in the Pacific Theater. The second Corsair squadron in combat was VMF-213. First Lieutenant Kenneth A. Walsh of VMF-124 became the first Corsair ace in May 1943. He finished the war with 21 victories and the Medal of Honor. Other famous Corsair aces were Robert M. Hanson (25 aerial victories), Gregory (Pappy) Boyington (22), and Wilbur J. Thomas (18+). Captain Thomas was still with VMF-213 when it flew aboard the Essex. In my book, Torpedo Squadron Four: A Cockpit View of World War II, I wrote that we lost 17 Corsairs (half the original complement) and 8 pilots from the two Marine squadrons between 31 December 1944 and 1 March 1945.
Tillman reports Charles A. Lindbergh's testing and combat experiences with the Corsair. Lindbergh was denied military service by the Roosevelt Administration, but the 42-year-old pilot was then assigned to testing and evaluation and succeeded in flying a number of combat missions in the Corsair. Tillman states that Lindbergh "had probably done more than anyone else to make the Corsair into a true fighter-bomber." He successfully carried a 2,000-pound bomb on his Corsair in one mission and designed a hook-up and carried three 1,000-pound bombs on another strike in the Marshalls. He attempted a takeoff with 4,000 pounds of bombs, but had to abort the mission due to wind conditions.
Carrier-based operations for Corsairs with heavy bomb loads were more questionable. The pilots of VMF-124 and VMF-213, newly assigned to the Essex, experienced many problems with the loaded Corsair. However, after several operational crashes, they decided that the Corsair could carry a 1,000-pound bomb—the same bomb load that was routine for Hellcats. After the bomb drop, Corsairs and Hellcats alike became effective fighter aircraft.
Tillman's book contains chapters on the Corsair's service during the Korean War and in other military operations. Corsairs played a substantial role in close-support missions during the first desperate years of the Korean War and remained engaged during the long conflict. After Korea, the F4U was flown by the Reserves. "The F4U's operational life had lasted thirteen years—a record for longevity in Naval aviation matched only by the Martin PBM Flying Boat."
Photo: Corsair takes a wave-off on approach to the Essex
Photo: Corsair from Air Group 4 aboard the Essex
Corsair: The F4U in World War II and Korea was published by the Naval Institute Press, Annapolis, Maryland in 1979 and reprinted in 1987.
Note: If you have a book review to contribute to AirGroup4.com, or a book to suggest that we review, please contact us here.