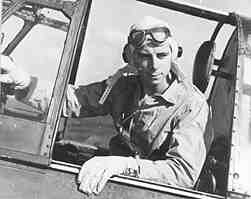 I enlisted in the V5 (Naval Aviation) program in September 1942 and was called to active duty in January 1943 at the age of 21. At that time I was living at home in Ozone Park, NY.
My career in the US Navy started at Baylor University in Waco, TX where I received 40 hours of flight time in a Taylor Craft Trainer.
After 3 months of Pre-Flight Training at the University of Georgia, I was sent to Basic Training at the Olathe, KS Naval Air Station. After many hours of flight time (day and night) in a N3N "Yellow Peril," it was on to Pensacola, FL. On February 11, 1944, I was commissioned an Ensign and Naval Aviator and the next day was married to the love of my life, Mary Lou Daley.
Together my wife and I went to Opa-Loca, FL for Operation Training in the TBF "Avenger." At this facility I briefly met Ensign George Gay from Torpedo Squadron 8. (He was the sole survivor of VT-8 when the rest of his squadron was lost at the Battle of Midway.) After completing this flight activity, my wife and I went to Glenview, IL for carrier qualifications. This was conducted aboard the CVE Wolverine, a converted tanker operating in Lake Michigan.
In the early summer of 1944, I finally joined Air Group 4 in Hyannis, MA and reported to LCDR Hutcheson, the CO of VT-4. From this point on until VT-4 returned to the States, my activities are accurately covered in Torpedo Squadron Four: A Cockpit View of World War II. As stated by Thomas there, my combat action included strikes on Japanese shipping and shore installations in the Philippines aboard the USS Bunker Hill. After our transfer to the USS Essex, we again hit targets in and around the Philippines, French Indo-China, Formosa, Iwo Jima, Okinawa, and finally Tokyo and the Japanese Mainland. I just returned from a strike on Santa Cruz on November 25, 1944 when the Kamikaze hit the Essex.
I would like to add one point--a personal issue: Our strike on Japanese ships in Saigon Harbor on January 12, 1945 for which I received a DFC is somewhat historic for me. On that same day my Father passed away at the age of 48 due to a doctor's mistake. His death was due to an appendicitis attack, not stomach gas. Strangely, one year to that day, January 12, 1946, my first son Thomas was born.
After I returned to the States and was separated from VT-4, I was asigned to a Facility Acceptance Squadron at Mercer Field in Trinton, NJ. This facility gave me the opportunity to fly a number of different planes. The TBM (of course) being built at Martin Marriott at this location; the F4H built at Chance Vought in Bridgeport, CT; the FM built in Linden, NJ; and the F6F "Bearcat" built at Grumman in Long Island, NY. Ferry flights took us to these locations for the first Navy test flights of these new aircraft. A great assignment!
After I was discharged from active duty in 1945, I joined the "Weekend Warriors" at NAS Floyd Bennett Field, NY and continued to fly TBFs and TBMs. From 1946 until 1967 I operated with Anti-Submarine Squadrons VS-831, VS-832, and VS-835. During this period I was employed by AT&T and spent 35 years primarily in Marketing as a Marketing Manager. I retired from AT&T in 1981.
In 1951, during the Korean War, VS-831 (flying TBMs and AFs) was recalled to active duty and reassigned to NAS Norfolk, VA for 2 years. We were also assigned to the Atlantic Fleet and operated as an Anti-Sub Squadron aboard the CVE Block Island, CVE Monterrey, CVE Plieu, and CVE Saipan. We flew day and night anti-sub patrols. We also flew many shakedown cruises at Guantanimo Bay, Cuba.
In 1961-63 I was given command of VS-835. In 1962, we were scheduled for active duty recall, but fortunately the Cuban Crisis was resolved before we (VS-835) were ready to proceed to Holmstead Air Force Base in FL to support the pending conflict.
In the last year of my command of VS-835 we were given J2F twin engine anti-sub planes to use for more advanced ASW work. A great plane and for the first time I had 2 engines and a co-pilot. What a great way to fly!
Finally, I retired from the reserve in 1964 as a full Commander with approximately 2500 flight hours and 174 carrier landings. Mary Lou and I have 5 children (3 boys and 2 girls), 9 grandchildren, and 2 great grandchildren. My wonderful wife died in July 1998 after fighting stomach cancer for 2 ½ years.