Howard James Finn was born in Belmond, Iowa on 10 October 1917. He enlisted in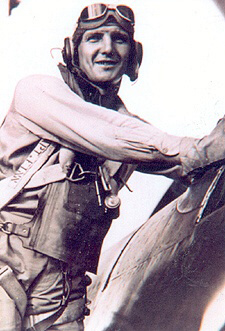 the Marine Corps in July 1941, and was accepted for flight training. Upon graduation from Pensacola in August 1942, he was assigned to VMF-124, the first squadron to take the new Vought F4U Corsair into combat. Fighting 124 remained "Mick" Finnīs home for the duration of WWII.
The squadron arrived at Guadalcanal in February 1943. Following a hectic breaking in period, VMF-124 became increasingly proficient in the Corsair and moved up the Solomon's chain, taking the air battle to the Japanese. Finnīs first kill was a Betty bomber on 10 June 1943. The following week the Japanese made a large-scale air raid on Guadalcanal and Finn splashed a Zero and a Val dive-bomber. He achieved Ace status on 15 August 1943 when he shot down 2 more Vals attacking American shipping near Vella Lavella. His score remained at 5 when the 25-year old lieutenant completed his first tour.
In December 1944, VMF-124 went aboard the fleet carrier USS Essex as one of two Marines F4U squadrons reinforcing Air Group Four. Finn (now a captain) was one of only 5 combat experienced pilots remaining in the squadron. But his experience showed, as he downed an Oscar and damaged another during a mission to Kumagaya airfield in the Japanese home islands. (See War Diary of Two Marine Squadrons -- VMF-124 and VMF-213 Aboard the USS Essex.)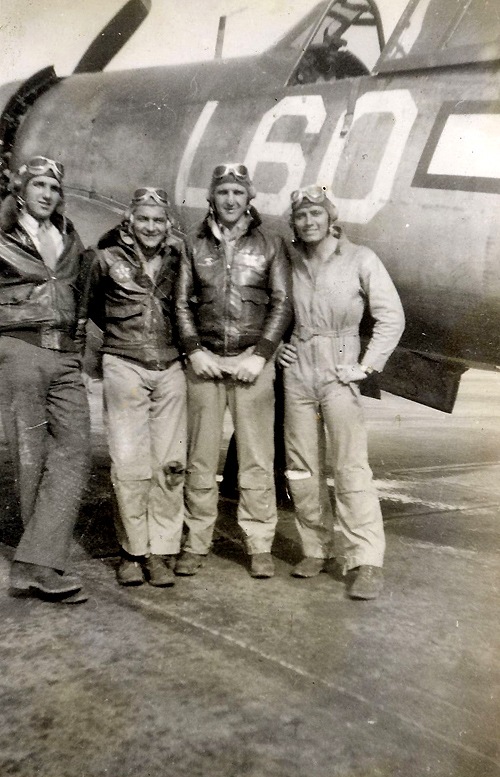 VMF-124 Pilots - "Finns Fighting Fools."
Roy W. "Hots" Huston, Casimir J. "Kazimah" Chop, Howard J. "Mick" Finn, Donald A. "Baldy" Carlson, Mojave Airbase. Carlson became a POW on February 25, 1945. He was liberated 6 months later.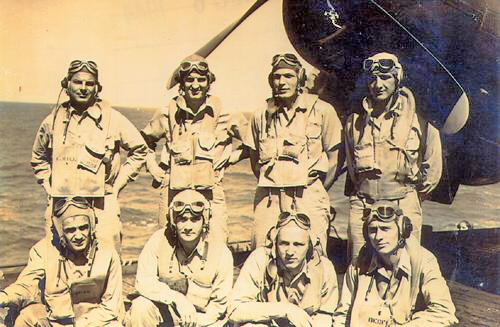 VMF-124/213 Pilots -- Taken aboard the Essex.
Standing: William A. Millington, Edmond P. Hartsock, William E. Crowe, Howard J. Finn. Kneeling: Alfred H. Agan, L. L. Clark, Wilbur J. Thomas, William J. Bedford (left to right).

During the Korean War, Finn flew with VMF-124 during 1950-51: his second war in Corsair cockpits. Subsequent assignments included Allied Air Forces southern Europe from 1952-1954, command of Marine Air Group 24 at Cherry Point, NC from January 1965 to July 1966 and a tour with the First Marine Air Division in Vietnam in 1967-68. He retired as a full colonel in 1969. He obtained a masters degree from Millersville State College in Pennsylvania and took up teaching electronics. He fully retired in January 1983.

Tally Record: 6 confirmed, 3 probable, 1/2 damaged.

Decorations: 9 Distinguished Flying Crosses, 21 Air Medals, Purple Heart.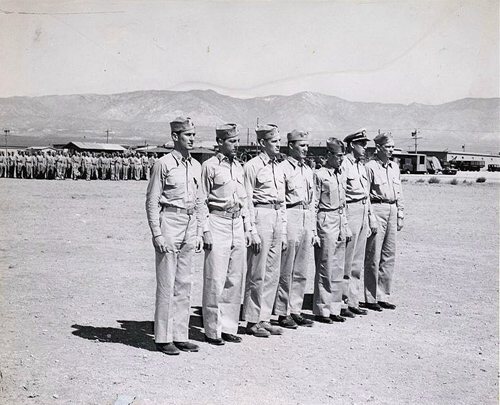 Capt William J. Bedford, Louis R. Smunk, Capt Edmond P. Hartsock, Capt Howard J. Finn, others unidentified. Receiving decorations at regimental parade, Mojave Airbase.