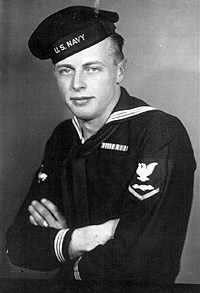 Leo E. Halvorson was born January 11, 1922, in Isabel Township, Benson County, North Dakota, the son of Albert and Inga Christine (Djoseland) Halvorson. He was raised on the family farm near Esmond and was educated at the Isabel School, graduating in 1939. Leo attended the North Dakota State School of Science in Wahpeton for a year and then worked in the shipyards in Richmond, Calif.
He enlisted in the Navy on October 30, 1942. Leo completed the aviation radioman course at the Naval Air Technical Training Center in Memphis, Tennessee, on June 12, 1943. He completed the ground instruction for Naval Air Gunners at the Naval Air Gunners School in Hollywood, Florida, on July 17, 1943.
During World War II Leo served aboard the USS Ranger in the Atlantic, and the USS Bunker Hill and USS Essex in the Pacific as an air gunner and aviation radioman. Leo was awarded the Purple Heart on November 14, 1944, while serving on board the Essex. He received the Air Medal in 1945 while attached to the Essex.
Leo was with pilot Scott Vogt on a bombing run the day he was wounded. Leo kept a copy of the news release the Navy issued about the run, where Vogt was credited with having scored two direct hits on a Japanese cruiser. Leo wrote, "Ack ack was heavy and our plane got hit – a hole 2-2-1/2 feet in diameter in the right wing. When we were out of range of Jap guns, Vogt called on the radio and said, 'We sure fooled the Japs today.'" Vogt used the gas in the right wing going to the target, but before beginning the bombing run switched to the left tank. That was mid-November 1944.
On Christmas Day that same year, Vogt was on the Bunker Hill taking a break from combat. He wrote Leo a letter to wish him a Merry Christmas and included a personal check for $25. Vogt wrote,
"Money seems of little value out here – and my personal check may seem of dubious value anywhere, but will you find some way of using this in memory of the experiences we have shared – and will continue to share."

"You have had one bad time with me already, and we will have to face more in the future – but these experiences are easier and less to be feared when they are faced with men we trust and can have confidence in. I am very glad that I had the good fortune to become your pilot."
Leo was honorably discharged on January 19, 1946, as an Aviation Radioman, Second Class.
He worked in Ft. Lauderdale, Florida, for a couple of years before returning to North Dakota to farm with his father.
He was united in marriage to Agnes Bengson on April 12, 1949, at Trinity Lutheran Church in Esmond. They lived and farmed in Isabel Township until moving into Esmond in 1958 where he was postmaster until 1967. He then became a rural mail carrier until his retirement in July of 1989.
Leo was a member of Trinity Lutheran Church in Esmond and was a former church council member. He served as Mayor of Esmond for 16 years, clerk of the Esmond School Board for several years, and was the Esmond Fire Chief for a time. He also was a member of the Esmond VFW Post #4251 and the Theodore A. Togstad American Legion Post #123 of Maddock, North Dakota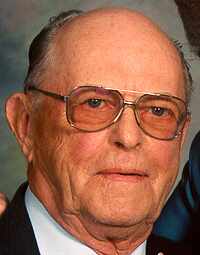 Leo died May 22, 1999, at the age of 77. He is buried in the Trinity Lutheran Church cemetery at Esmond.
Leo and Agnes had nine children: six daughters, Linda Hoffman of Hillsboro, Oregon, Cheri (John) Hoffman and Donna (Tim) Hubbard, all of Vancouver, Washington, Shirley (Rick) LaFleur and Lori (Todd) Schlieve, all of Devils Lake, North Dakota, and Patty King of Tacoma, Washington; three sons, Lyle Halvorson of Bismarck, North Dakota, Alan (Kay) Halvorson of Vancouver, Washington, and Gary (Dawn) Halvorson of Red Lake Falls, Minnesota.