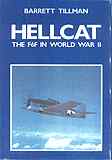 Hellcat: The F6F in World War II is an operational history of the Grumman F6F fighter during WWII. Tillman states that this was the most important Allied aircraft in the Pacific during 1943-44. Hellcats were credited with destroying over 5,000 Japanese aircraft during combat in the air.
The Grumman Aircraft Engineering Corporation opened for business in 1930. The first experimental XF6F-1 was tested in June 1942 and a dozen F6Fs were delivered to the Navy in December 1942. By November 1943, the Grumman factory was turning out 400 Hellcats a month and over 130 TBF torpedo bombers. In all, over 12,000 Hellcats were built from 1942 to 1945.
The author interviewed a number of Hellcat pilots and researched Navy and Grumman records. The pilot interviews were very revealing about the performance of this great plane. The appendix contains a list of top Hellcat Aces. Cdr David McCampbell from AG-15 (the Air Group replaced by AG-4) heads the list with 34 aerial victories. The next five Navy Aces flying the Hellcat and their kills are: Lt Eugene A. Valencia VF-9 (23 kills), Lt Cecil E. Harris VF-9 (22), Lt Alexander Vrancin VF-18 (19), Lt Patrick D. Fleming VF-80 and VB-80 (18), and Lt Cornelius N. Nooy VF-31 (18).
Our Air Group Four fighting squadron will relate well to this history of the Hellcat. Although Fighting Four (the Red Rippers) started with F4F Grumman Wildcats in their first combat over North Africa while aboard the USS Ranger, the squadron shifted to F6F Hellcats when assigned to the Pacific with duty aboard the USS Bunker Hill and the USS Essex. VF-4, as well as other fighter squadrons in the Pacific, effectively used the F6F as a fighter bomber. The aircraft could carry a 1000-pound bomb and, as such, destroyed many ships and enemy shore facilities, besides making an impressive record in aerial combat.
Hellcat: The F6F in World War II was published by the Naval Institute Press, Annapolis, Maryland in 1979.
Note: If you have a book review to contribute to AirGroup4.com, or a book to suggest that we review, please contact us here.