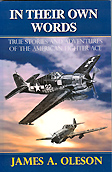 This book, sub-titled "True Stories and Adventures of the American Fighter Ace" is a valuable addition to the record of fighter pilots involved in World War Two and Korea. Carefully researched, James Oleson adds another analysis to the verbal and written record of the "Ace" Category of pilots during these conflicts.
These men, closely bonded to the planes they flew, relate In Their Own Words some of their fascinating experiences up front in the cockpit of America's best fighter aircraft.
The key to Oleson's extensive analysis in the Appendix of the Ace category of pilots rests with the question: "Who has reached Ace status?" In answering this question, the following points, made in the "Introduction," are important:
"Originally ten victories were required to qualify as an Ace -- this was later dropped to five and became standardized by most Nations"
"Confirmation of an aerial victory usually required visual or sworn statements by fellow pilots or ground personnel."
"In Japan, especially late in the war, downing an American bomber was given the status of ten victories".
"Similarly, German pilots were given four points for downing allied bombers versus a single engine aircraft."
As a torpedo pilot, I did not have to get involved in the decisions by our own fighters in VF-4, VMF-124 or VMF-213 about what constituted a "kill" or a "probable" or an "assist," but I do remember some of the Ready Room excitement after combat. Several Wildcat and Corsair pilots in Air Group 4 reached Ace status. For example, one report from the pilot debriefings after strikes on the Japanese Mainland on February 17, 1945 states that "The Fighting Four Red Rippers in their Hellcats reported 8 confirmed kills and the Marines from VMF-124 and 213 flying Corsairs were credited with seven."
One of the Marine pilots on this Tokyo strike was Capt. Wilbur J. "Gus" Thomas, who brought down 2 Japanese Oscars on that day. Capt. Thomas is one of the top Marine aces in WWII, credited with an eventual kill record of 18.5, as noted in Oleson`s book.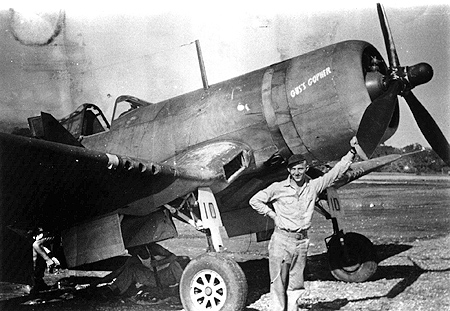 Capt. Wilbur J. "Gus" Thomas with his "Gus Gopher" F4U Corsair, in 1943.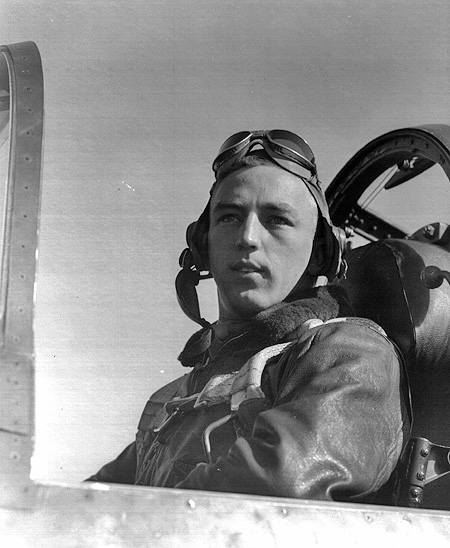 Capt. Wilbur J. "Gus" Thomas, VMF-213, in 1945.

Capt. Thomas was killed January 28, 1947 in a weather-related operational accident.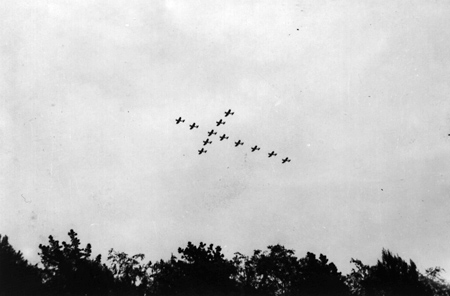 Fly-Over at the funeral of Capt. Thomas, Feb 3, 1947.

In the section on "Qualities of an Ace Pilot", James Oleson's statement is worth repeating,
"It is hard to pinpoint the exact qualities that separate a good pilot and a great fighter pilot. Surely it must consist of a fighting inner spirit and a motivation and determination to survive and succeed at any cost, with a measure of opportunity and luck in the mix.... Luck took the Ace where the action was and assigned him a good machine."
It is the individual stories by the fighter Aces themselves that provide the interest and title for this book, In Their Own Words. Some 120 pilots recall these events and, as Oleson states, they are, "Sometimes exciting, sometimes humorous, sometimes tragic but all from the heart and gut."
This book adds another cockpit view to our valuable history of World War II and Korea. However, while the various appendices add to the analysis of many American pilots who reached "Ace" status, it is difficult to research individuals without a comprehensive index to pilot's names.
You can obtain more information about the book, from James Olesonīs web site.
Oleson has added a second volume to this series: In Their Own Words: True Stories of American Fighter Aces. The Final Chapter. Click here for a review.
Note: If you have a book review to contribute to AirGroup4.com, or a book to suggest that we review, please contact us here.