ABOARD AN AIRCRAFT CARRIER IN JAPANESE WATERS, FEBRUARY 25, 1945 (Delayed)--Today I had a bird's eye view of eight square miles of flaming hell.

Flying low over the Japanese bastion of Iwo Jima, 750 miles South of Tokyo, I saw thousands of United States Marines under murderous enemy gunfire, inching across the tiny island's vitally important airfield in one of the bloodiest struggles of the Pacific war.

From an altitude of 1,000 feet above the blazing inferno it was possible to see flashes of artillery, machine-gun and rifle fire from both sides of the contested field.

In one small area of concentrated action, where our Marines sought to drive defenders from their pillboxes, fox holes and underground corridors, searing yellow tongues of fire ejected hundreds of feet, licked out from our newest type of flame throwers.

Offshore, one of the mightiest battle fleets ever to invade an enemy's territorial waters ringed the volcanic fortress. As far as the eye could reach for miles around our battleships, cruisers and destroyers steamed back and forth, moving in and out to pour a ceaseless hail of high explosives and incendiary shells on enemy positions.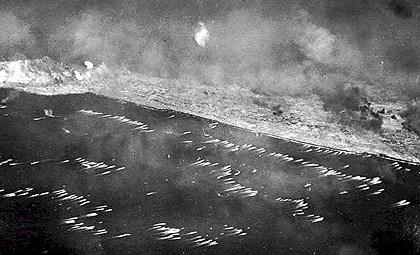 Land Craft Approach Beach - Iwo Jima.

The bombardment was directed from every side. Flashes from the 16-inch broadsides of our battlewagons and from the smaller guns of cruisers and destroyers were followed in a matter of seconds by geysers of smoke, flame and flying debris.

Flowerpot of Exploding Shells

Occasionally, an enemy ammunition dump would take on the aspect of a Fourth of July celebration as a direct hit from the fleet touched off a blazing flowerpot of exploding shells.

So concentrated, heavy and unrelenting was the fire that at times the entire island was enveloped from border to border by curtains of yellow-and-black smoke and dust.

At the southern tip of Iwo the island's pint-sized, now dormant volcano seemed actively in eruption as exploding shells filled the crater with smoke and flame and hacked huge chunks of rock and earth from its sides.

Deep within the rock walls of the volcano the Jap defenders in their caves and network of tunnels and corridors faced certain death.

The awesome land and sea battle raged beneath us without sound effects so far as we were concerned; for the mighty roar of our own engine drowned out other noise.

Then came strafing attacks by the carrier planes.

For the Japs their rapid approach and swift, relentless dives meant terror and death, and for the fighting pilots themselves the descent called for every faculty of deadly precision and daring.

But to him who in detached wonder watched the epic scene this battle phase was grace itself, a thing of beauty—fleeting, fantastic, beyond all dreaming.

Red tracer bullets fell in a crisscrossed web of flame.

Some found their mark in human flesh and bone, upon enemy guns and emplacements, but thousands of fiery darts, striking the flinty rock, bounced and richocheted high into the air—dying sparks from Vulcan's anvil.

Enemy anti-aircraft fire was feeble, generally ineffectual.

Jap's Vaunted Wall Cracking

With the taking of Iwo Jima our Navy's westward sweep across the Central Pacific will be crowned with one of its greatest and most significant successes, for the cracking of Iwo represents likewise the cracking of Japan's vaunted wall of impregnable defense.

To the Japanese, capture and exploitation of this important outpost must represent the beginning, even if an early beginning, of the end.

With the word that the defenders have been confined in areas beyond the immediate limits of the island's main airfield the supply ships and Seabees will go into action with bulldozers and the vast and complicated equipment needed to establish an operating base quickly.

This fortress must me made not only so strong the Japs cannot retake it, but also so formidable the enemy cannot successfully defend himself from its offensive operations.

Meanwhile, the deadly work of forging one more link in the tightening chain around Japan goes forward.

Endless Stream of Landing Craft

For three hours today, as Lt P. P. Stephens of Springfield, Ill., piloted our plane around and across the fiery hell below, we watched an endless stream of landing craft rush up reinforcements and supplies. Landing was difficult, as the black sand under the pounding preinvasion shelling was soft and spongy.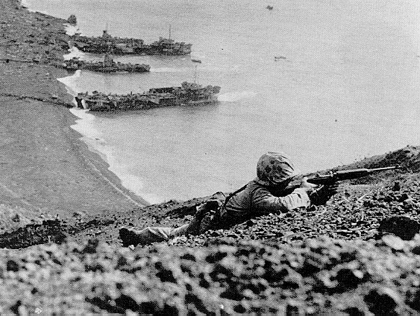 Marines Fighting on Iwo Jima

Also, due to the fact that enemy mortars and machine guns still commanded most of the easier beach approaches, our boats were forced to discharge their cargoes in a small bay where waves were high and strong. Nevertheless, without hesitation, men, guns, ammunition and supplies were moved ashore.

Returning craft carried off the wounded and dead. Long after our fighters and observation planes had broken away and were scurrying back to their floating bases we could see the flash of guns and make out beneath the overhanging clouds the heavier man-made fog of battle.