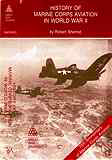 Robert Sherrod's History of Marine Corps Aviation in World War II is one of the best-documented books on World War II. Because of its significance in the military history of this century and author's matchless style, it is truly a Great War story.
Sherrod writes both from personal experience as a Time/Life correspondent during WWII and from careful archival research with Marine War Diaries, Unit histories, and Muster Rolls. A basic history of each Marine Fighter Squadron is in the index, but it is the fascinating history of the air war that holds special appeal to most readers.
Sherrod first went to the Pacific in 1942. His account contains famous names such as Attu, Wake, Tarawa, Saipan, Iwo Jima, Okinawa, Saigon, and Tokyo. He interviewed Marine pilots and support personnel and related the successes and tragedies of combat.
Of special interest to Air Group 4 and USS Essex personnel is Sherrod's account of Halsey's risky decision to take Carrier Task Force 38 (CV-38) into the South China Sea. He states, "By all accounting 12 January 1945 must be regarded as one of the great days of the US Navy. The venture into the South China Sea was as audacious as it was unlikely." Sherrod was on the Essex at the time and he decided to see action first hand on January 12 by riding as a crew member in one of our Torpedo 4 Avengers with Bert Trexler as pilot and Charlie Barr as turret gunner. The planes attacked Japanese shipping in and around Saigon Harbor. Sherrod chose to risk his life to get a combat story, as he did many times during his war reporting. The Task Force lost 16 planes on January 12. Two Essex planes were shot down: one torpedo plane, and one Marine Corsair. His book contains a follow-up account of the fate of VT-4 pilot Don Henry, crewman E. A. Shirley, and VMF pilot Joseph Lynch. (See "Saigon Takes Its Toll" in Torpedo Squadron Four: A Cockpit View of World War II.)
The first Marine fighter squadrons to be carrier-based during WWII were VMF-124 and VMF-213. These squadrons were assigned to the Essex at the time Sherrod was aboard. He relates a number of incidents involving these two squadrons, including the tragedy of the Army Air Force B-24--shot down by mistake over Saigon. (See "Marines Replace Dive Bombers" in Torpedo Squadron Four: A Cockpit View of World War II.)
History of Marine Corps Aviation in World War II by Robert Sherrod stands alone as the most valuable reference document on Marine Aviation published to date. The Nautical & Aviation Publishing Company of America, Baltimore, Maryland 21201 reprinted the book in 1987.
Photo: Robert Sherrod dons parachute.
Photo: Robert Sherrod gets bail-out instructions.
Note: If you have a book review to contribute to AirGroup4.com, or a book to suggest that we review, please contact us here.