After engaging the enemy in North Africa and Norway and escorting numerous convoys across the North Atlantic, the USS Ranger was ordered to return to the States. I have included some of my journal notes during this period to aid in understanding some individual attempts to balance strenuous wartime activities with the desire to capitalize on every hour of liberty. Our concern about the loss of lives in so-called "operational accidents" is evident from these brief notes. Unfortunately, the Navy provided very little information on the circumstances surrounding these losses to the families back home.
November 11, 1943 -- Aboard the USS Ranger. "Armistice Day for World War I and here we are in the midst of another war between Nations." (1)
November 12, 1943 -- "Ensign [Hartwell R.] Hawkins [VF-4] went in the drink while coming back aboard--drowned according to reports from the destroyer."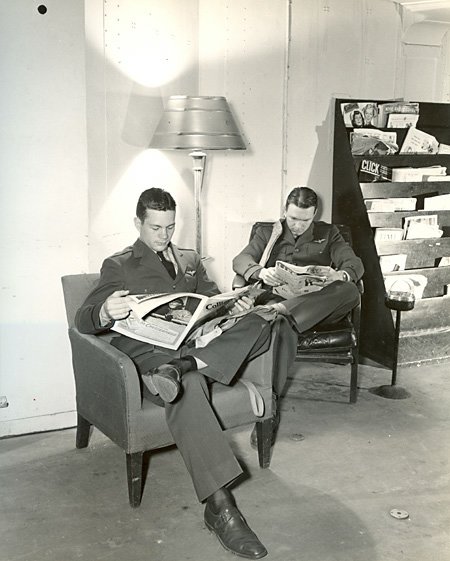 VF-4 fighter pilots Ens Clifford M. White and Ens Hartwell R. Hawkins shown in USS Ranger ward room reading magazines, June 1943. Ens Hawkins died in an operational accident November 12, 1943.

November 26, 1943 -- Coming out of a Fjord in Iceland--"high winds blew a fighter off the flight deck with a man in it [AMM3c James D. Westmoreland, Jr.]." No chance for rescue.

November 27, 1943 -- "It was officially announced today that the Ranger is due in Boston on December 3. Cheers throughout the ship."

November 30, 1943 -- "The Air Group was launched this morning for a coordinated attack on the Task Force. Recovered all planes without an accident. The Ranger has lost 4 SBDs, 12 fighters, and 1 TBF since we left the States."

A practice torpedo attack by VT-4 on the USS Ranger in the Atlantic.

December 3, 1943 -- "Tied up in the dock at 1114 this morning in Boston amid cheers and confusion."

December 4, 1943 -- "Turned in our old planes for the new TBF-1c. Bad plane crash today. A PV Ventura hit Hanger No. 2 in full flight, exploded and burned. Eight people killed."

Back in the States the Air Group was reorganized and enlarged. The Torpedo Squadron (VT-4) went from 8 planes to 16, Fighting Four (VF-4) was also enlarged and equipped with the new F6F Hellcats, and the Dive Bombers (VB-4) received SB2c Helldivers. New pilots and crew members were added to the Air Group.

December 5, 1943 -- "Flew Mak [Ens George D. Makibbin] around in a TBF this morning to show him the area--Providence, Point Judith, Martha's Vineyard, etc."

Also on December 5, 1943, I wrote the following in a partially censored letter to my parents:
"I've been attached to a flat top as a torpedo pilot. I joined the ship after ferrying a dive-bomber to Newfoundland in May. We spent about 3 months operating out of there. Then we escorted a ship over from England with Churchill on it, made several other convoy escort jobs, and headed for Scapa Flow which is in the Orkney Islands, North of Scotland. We spent some time in Edinburg and London. Also visited Iceland twice and got within sight of Greenland. Made a raid on German shipping and finally returned to the USA. Saw a heck of a lot of water in the North Atlantic--most of it cold and rough. I'm just about the only member of the squadron that didn't get home this time. The Skipper said Idaho was too far."
December 6, 1943 -- "Lyn and Souz [Ensign Willbur S. Souza] were married at 7:30 pm. Bunny was Maid of Honor and I was Best Man. [Ensign] Burley Grimes and Ensign [J. F.] `Red Raider┤ Radford were ushers."
December 9, 1943 -- "Dropped torpedoes again today on the range near Hyannis."
December 15, 1943 -- "The Squadron officially changed command this afternoon. Lt Cdr David W. [Woot] Taylor was replaced by Lt Homer H. [Hutch] Hutcheson." Woot Taylor was later killed in an operational accident flying an F6F.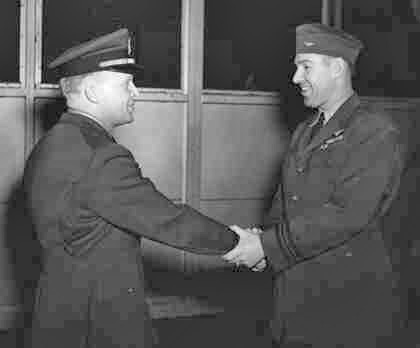 Lt Cdr David W. (Woot) Taylor, Jr. (right) turns over the command of Torpedo Squadron Four to Lt Homer H. (Hutch) Hutcheson. Two great skippers -- both lost in plane crashes. Quonset Point, Rhode Island - December 20, 1943.

December 24, 1943 -- "Went to town to spend Christmas Eve despite orders to remain aboard. Canty [Lt(jg) William H. (Candyman) Canty] and I met a couple of girls in the Bacchante, so we helped them deliver Christmas presents to the relations and celebrate in general."

December 25, 1943 -- "Was supposed to have the day off, but Bob [Ens Robert F. Ruth] woke me up at 0600 saying something about a National Emergency, so I rushed down to the hangers. (Turned out to be a drill)"

December 26, 1943 -- "Delicious steak dinner at the O-Club while entertaining Buck [Lt(jg) Gerald M. Barnett] and his fiancÚ."

December 27, 1943 -- "Got a 3 day leave out of Hutch so went to Providence."

January 1, 1944 -- "Spent the morning at the hangers standing in for Buck who just got married. Flew one hop."

January 5, 1944 -- "All the planes but 5 were taxied down to the dock and hoisted aboard the Ranger."

January 6, 1944 -- "Bob and I rushed down to the hanger to prepare for a dawn takeoff. Rain fouled everything up so the hop was canceled. Bob and I got permission to go aboard for a physical examination to prepare us for promotion to Lt(jg)."

January 17, 1944 -- "Flew aboard the Maru (Ranger) for a couple or three days."

January 22, 1944 -- "Underway early. I led four fighters on a 200 mile navigation hop from the ship. Ensign Scott Vogt overdue on ETA (he landed ashore at Floyd Bennett, NY)."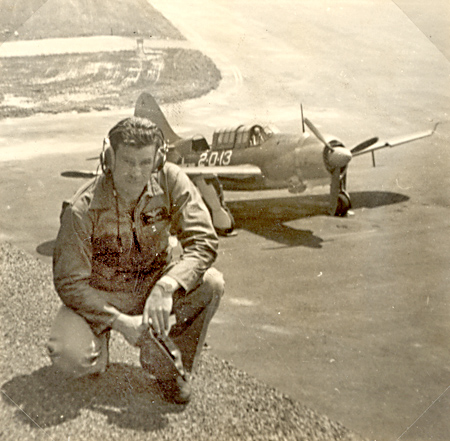 Gerald W. Thomas waiting for next hop.

January 24, 1944 -- "Lugged a real live warhead torpedo up to Bar Harbor, Maine and dropped it against an island."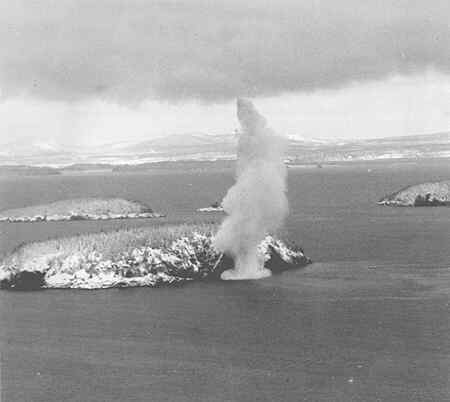 Live torpedo practice by VT-4.
Bar Harbor, Maine - January 24, 1944.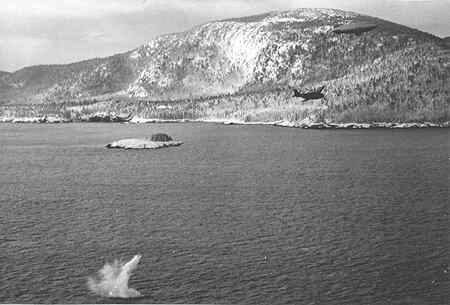 A perfect torpedo drop by a VT-4 Avenger.
Bar Harbor, Maine - January 24, 1944.

January 29, 1944 -- "Led Don [Ens Donald A. Henry] and Candyman in a hedge hopping tour this afternoon."

January 30, 1944 -- "Took the duty for Buck." (After all, he just got married).

February 1, 1944 -- "We were launched at anchor due to high winds."

February 5, 1944 -- "Antisub patrol from the USS Ranger. I have the Starboard sector and Candyman has the port. Just finished zooming four Cans."

February 7, 1944 -- "Candyman and I went to Providence tonight. Saw a show and went to the Beachcomber."

February 8, 1944 -- "Canty and I spotted Felix [Lt(jg) Felix E. Ward], Buck, Bob, and their wives in the Garden Restaurant celebrating Felix's wedding. Joined the party till midnight."

February 19, 1944 -- "Led seven planes today in a glide bombing hop since all senior officers are aboard ship qualifying at night. Forced landing early due to loss of hydraulic fluid. Big formal dance at the O-Club tonight. 100 debutantes. Big time and strong drinks."

February 21, 1944 -- Two night carrier landing hops. Lt(jg) Howard F. Edwards was killed last night during carrier landing. Eddie was a good kid--just married."

February 23, 1944 -- "I rode to town with Buck after night flying. Mak, Candyman, and I dropped in to the Narragansett Officers Club. Canty and I looked into the Snakepit afterward."

February 24, 1944 -- "Hutch, Mak, Canty and I flew to the ship this afternoon for the big event--night qualification. Had three refresher landings before dark. One wave-off tonight due to fouled deck. Mak got a prop taxiing."

February 25, 1944 -- "Candyman and I hit the city via Ruth`s, Souza`s and Buck`s. Big party in the Bacchante."

February 28, 1944 -- "Two dive-bombers collided due to poor visibility. Hovey [Lt(jg) Brad P. Hovey] chewed Phyllips tail off and he and his radioman bailed out. They were picked up OK."

February 29, 1944 -- "Ship based. Big crap game tonight."

March 1, 1944 -- "Hutch made Canty, Buck, and me fly late due to downed planes on first hop."

March 5, 1944 -- "Don landed an Avenger on a Dauntless in the gear--tore both planes up. Mak, Candyman, Don, Souz, and I finished qualifying aboard tonight. Not much excitement. One fighter got the clip house."

March 14, 1944 -- "0230--Reveille for pilots. 0315--take off for rendezvous, breakup and land aboard. Weather black as hell. Ceiling 700 ft. Thirty planes took off in the stuff. What a mess! Planes flying every direction. I joined up several times before I found the right plane. All the bombers and one TBF got aboard when Henry crashed in the Island. Plane burned. Terrific damage to bridge structure and plane (but no casualties I found out later). The wreckage fouled up the deck so the planes remaining were vectored to nearest land--155 miles away. I started frantically conserving gas and we headed for the beach. Arrived Quonset okay."

March 16, 1944 -- Harriss [Lt J. Welch Harriss], Mak, Trex [Lt Burt R. Trexler], Candyman, and I went to Boston tonight."

March 28, 1944 -- "Ens Richard K. Allander got vertigo in a cloud and was last seen spiraling down in his plane. The Avengers and Dauntless spent the remainder of the day searching for survivors or wreckage. No luck. Allander, a new man with VB-4, was small, quiet and pleasant to talk with. Only 19, married with a child on the way. Candyman, Mak, and I went to Providence tonight. Had a rip roaring time."

April 3, 1944 -- "Flew aboard ship this afternoon. It was Jack Fulnecky`s [Lt(jg) John R. Fulnecky] turn tonight. Happy-Go-Lucky `Ful`--just married--well liked--good aviator. He has been on this tub 14 months now and never had any trouble. Bad wave off--caught a wire and over the side--throttle full on. Radioman picked up but not Jack. As the other pilots got down they asked who it was this time. When they were told it was Big Jack, the principle expression was "G*d D*mn!" I can name 19 pilots lost since I got aboard the Ranger. Only one in action--two captured. The rest were operational accidents."

April 4, 1944 -- Standing by in the Ready Room--Condition Eleven--with Candyman as striking group in case of sub contact. Leo [R.] Norman almost added to the list when he caught an F6F slipstream and almost went in on his back. Crap game in the Bunk Room tonight."

April 11, 1944 -- Memorial Services for Lt(jg) John Fulnecky who was killed in a crash on April 3."

April 16, 1944 -- "Air Group 4 has been detached from the USS Ranger to move to Fort Devens, Mass to be enlarged to a 90 plane outfit. Lunch aboard the Ranger was probably my last meal on that Flat Top. I'm leaving with some vivid memories, centering around hazardous day and night carrier landings, rough seas, foul weather, crap games, bull sessions, good friends, Argentia, Scapa Flow, Iceland, London, Edinburgh and the Norwegian Coast. She's a great ship, cussed and loved by many--but always a welcome sight to the Naval Aviator coming up the groove."

April 18, 1944 -- "Received the Air Medal aboard the USS Ranger officially today. Captain [Gordon] Rowe made the presentation and read the citation. Bob Ruth, Cy [F.] Weeks, and Lt Cdr [George Otto] Klinsmann also received Air Medals. [Cdr J. A.] Ruddy received the DFC."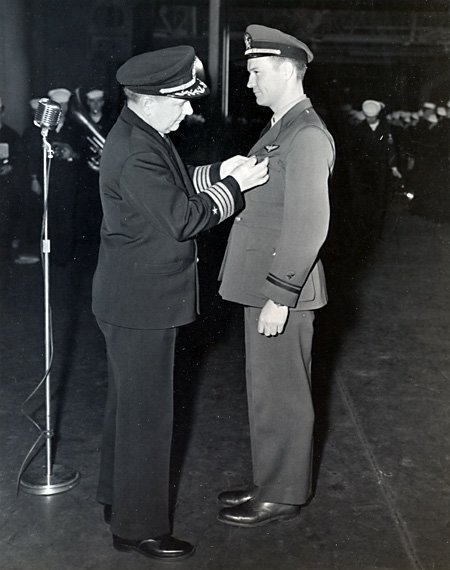 Captain Gordon Rowe of the USS Ranger presenting Air Medal to Lt(jg) Gerald W. Thomas. April 18, 1944.

On April 20, 1944, The Skipper authorized a nine-day leave. I flew by commercial airlines to Missoula, Montana and then drove down to Idaho with my folks.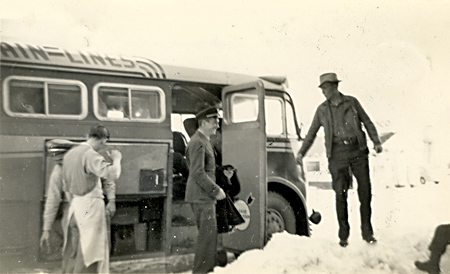 Gerald W. Thomas getting on the bus in Dubois, Idaho, to return from 9-day leave.

May 7-June 1, 1944 -- Mak and I from Torpedo 4, along with a few pilots from VF-4 and VB-4, were dispatched to Photo Reconnaissance Training at Harrisburg, PA.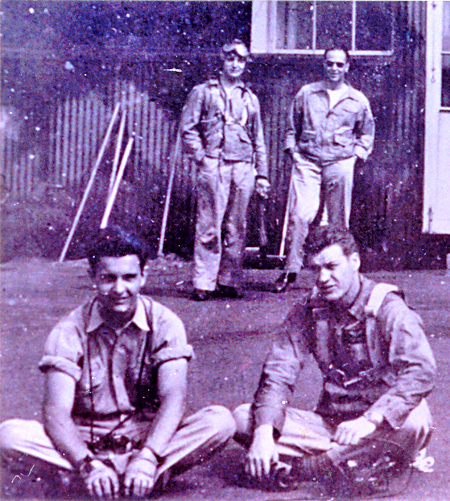 Gerald W. Thomas (sitting, right) at Photog School, Harrisburg, Pennsylvania.

On May 20, 1944, I recorded in my journal, "Red Letter Day." My brother, Byron,who was attached to the USS Kasaan Bay came down from Washington to Harrisburg for a brief visit. I showed him around the base and the next day I took him up for a hop in my TBM. I had a great time showing him the mountains and valleys of Pennsylvania at tree top level. However, Byron did not fully appreciate the ride from the belly of my Avenger. He could now sympathize with my trusty flight crew. During my brother's visit, I introduced him to Mary--a good-looking girl I had met in Harrisburg. That was the end of my relationship with Mary. Byron fell in love with her, kept in contact during the war, and married her on August 3, 1945.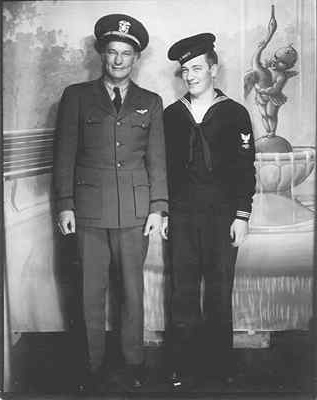 Two Navy brothers meet in Harrisburg, PA on May 20, 1944. Radar Technician Byron K. Thomas from the USS Kasaan Bay and Ensign Gerald W. Thomas from the USS Ranger.

Air Group Four checked all planes into the Base Command at Quonset Point on June 29, 1944. We were then ordered by train to Brown Field on the West Coast. While we were waiting for the next assignment we enjoyed some liberty in San Diego and Tijuana.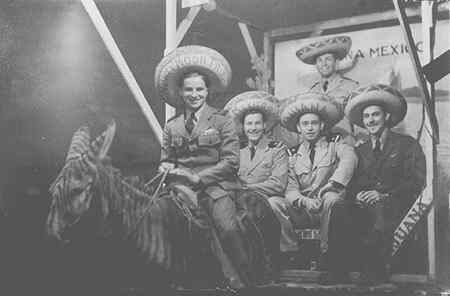 Liberty in Tijuana, Mexico - July, 1944. Bob Ruth and Gerald Thomas, VT-4, on the left. Lt(jg) Ted A. Newell standing. Others unidentified.

On July 13, 1944, we were loaded on the USS Barnes for transportation to Hawaii. We arrived at Pearl Harbor on July 21 and were immediately sent to the Air Base at Hilo, Hawaii for further training.

Air Group 4 operated out of Hilo for the next two and a half months. Hutch put us through some very intensive training, including simulated attacks, field carrier landings and night operations in all kinds of weather.

On September 21, 1944, during a night close formation flight, three of the four planes in the Skipper's division collided. The night was dark with no horizon and the group flew into a severe thunderstorm. We searched the sea for survivors for three days--without success. Memorial Services were then held in St. Joseph's Church, Hilo, Hawaii. We mourned the loss of Lt Cdr Homer H. Hutcheson, Lt(jg) William H. Canty, Ensign Merrill Silver Stocker, ACRM Henry N. Karsemeyer, ACOM Edward James Dooner, AOM2c Thomas Charles Bradley, ARM3c William Laverne Finkenbinder, AOM3c Henry Lester Johnston, and ARM3c Raymond N. Glew.

A new and inexperienced Skipper, Lt. Paul J. Davis was now assigned to lead Torpedo Squadron Four into combat in the Pacific. Lt. Lee Lawrence Hamrick was promoted to Executive Officer.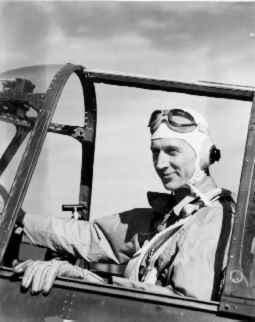 Lt Paul J. Davis. Lt Davis was named Commander of Torpedo Four after the tragic loss of Lt Cdr Homer H. Hutcheson.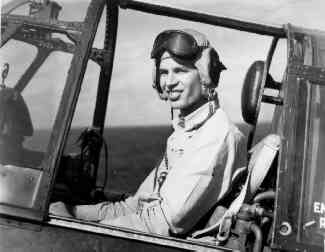 Lt Lee L. (Ham) Hamrick. Lt Hamrick became Executive Officer of Torpedo Four after Lt Cdr Hutcheson's death

Air Group Four was loaded aboard the USS Long Island, ferried to Saipan and assigned to the USS Bunker Hill on November 4, 1944. This was our first experience on an Essex Class carrier. We welcomed the opportunity to fly from a larger ship. However, operational accidents continued to plague the Air Group. Action Reports from the Bunker Hill state:
"Air Group Four reported onboard fresh from the Hawaiian Islands with less than forty percent of their pilots having completed a refresher course. As a result, it was necessary to conduct training exercises while enroute to the operating area. During these exercises and the following combat operations, five (5) planes were lost operationally and ten (10) planes landed in the barrier. In addition, hard landings resulted in 67 blown tires and 29 broken wheels. Operational losses such as these seriously affect the efficiency of the ship under combat conditions."
The combat record of Torpedo Four in the Pacific, assigned to the USS Bunker Hill and the USS Essex, is contained in my book Torpedo Squadron Four: A Cockpit View of World War II. Many other articles about AG-4 are available on this website.
Footnotes:
(1) Journal notes are in quotes.
See Also: