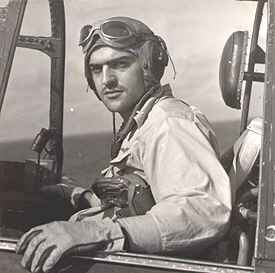 GT: Will, tell us where you were born, what happened before World War II, and how you became involved in the war.
WS: I was born in Santa Maria, California in 1921. I was the eldest child of two; I have a sister 3 years younger. Usual stuff, grammar school, went to high school, played football, sports and track. Then to further my education I went to Cal Poly (California State Polytechnic) in San Dimas, California, which is about 300 miles away from home. Went to school there for 2½ years until December of 1941 and my roommate and I were real enthused about going and fighting the Japanese. He said "Why don't we join the Navy and fly," and that sounded like a hell of a good idea. So we went down and took the preliminary exam. He didn't pass the eye test, but I passed. So that was the way it was, and I went home and they called me, I think it was in March of 1942, to go to Elimination Base, which was in Oakland, California on the bay (now the Oakland International Airport). They had a small naval reserve unit there. We flew N3Ns ("Yellow Perils") out of there. They had a small dirt practice field. I can't think of the name of the place, but that dirt field is where I soloed in an N3N, which was later replaced by the Steerman N2S.
Photo: N3N-3 "Yellow Peril" Trainer
GT: Will, had you ever been in an airplane before?
WS: My only experience with an airplane was with my dad. Santa Maria has Hancock field and Hancock College of Aeronautics. Captain Hancock was a multi-millionaire in oil out of LA, and was very enthusiastic about aviation. He was the guy that sponsored Sir Kingsford-Smith's transpacific flight in what I think it was a Fokker Tri-Motor (like a Ford Tri-Motor). They had a couple of air shows there, and one day they were selling rides on a Ford Tri-motor and my dad and I went up. That was my first experience in an airplane.
GT: So your next experience was in the Navy?
WS: That's right. And my first flight in the Navy, well you know, you strap on a parachute and climb in the backseat. He didn't say a damn word and we took off and climbed slowly up to 6,000 feet. At 6,000 feet he says "It's colder than hell up here," and just I nod my head. Then he kicked it over and put it in a big tailspin, and we spin down to about 3,000 (feet), and he pulls it out.
BR: He wanted to see if you would get sick.
WS: I don't know what he was testing, but those wires on the wings were whistling and I thought, "I don't know about this, this big problem machine." Anyway I proceeded and soloed and went on to Corpus Christi, Texas for Basic, I guess the next step.
GT: You were a full-fledged Cadet at that point?
WS: Yes, the first 3 months in Elimination Base you were a Seaman Second Class. I think we got $23 a month or so.
GT: With no insurance.
WS: I don't know about insurance.
BR: But you got 3 squares a day?
WS: Yes, we got 3 squares a day.
BR: Didn't give you enough time to spend much money, did it?
WS: No, I think the lights went out about 9 or 10, and then from 5:30 or so you were in high gear all day. Going to classes and flying and washing down airplanes.
GT: As I recall a lot of people were dropped out in Elimination Bases.
WS: That was the name of the game, the theory was that they were going to lose 50%. I don't think they lost that many.
BR: About that time they wanted us, they needed pilots.
WS: Yes, they were desperate for aviators I guess, at that time. Then, later on, you would go to school at different colleges for 2 years before you ever saw an airplane.
GT: So we went through training pretty fast?
WS: Yes, the whole procedure I think was about 9 or 10 months.
GT: What class were you in at Corpus Christi, do you remember? Bob Ruth and I were in Class 4A. You might have been in a different class.
WS: I don't know.
GT: So then from Corpus you went to...?
WS: From Corpus Christi we went down to Opa Locka, Florida, where we flew SBCs, a biplane (Curtis "Helldiver").
(Note: My records show that we completed Aviation Cadet training at Corpus Christi, Texas on November 23, 1942 and were ordered to Opa Locka, Florida for dive-bomber training. GWT)
BR: I landed one of those planes wheels up when I came back from the mission. One wheel would go down and one would stay up. I finally had to land it on the skids.
GT: With the wheels up, I remember that.
WS: That was an SNC.
BR: It was the one with the little knuckles underneath. It was at Kingsville, Texas.
WS: That's an SNC.
GT: The one that Will's talking about is a biplane.
WS: Yes, a biplane, it had cranks to crank the wheels and the flaps.
GT: And we also flew OS2Us.
Photo: Vought-Sikorsky OS2U "Kingfisher"
WS: Yes.
GT: The Vultee Vibrators.
WS: Yes. The SNC was also a Curtis. Some of the South American countries, I think, used those as fighters at that time. Those SBCs were also, at one time, a fleet dive-bomber.
Photo: Curtiss SBC-4 Scout Bomber
GT: Right.
WS: And they were now in the training program.
GT: As I recall in Opa Locka, you had an experience with vertigo, what was that?
WS: It was a helpful experience in later years. You know, everyone has to experience vertigo. It was at night over the swamps, blacker than an ace of spades. I got vertigo and started in a downward spiral toward the swamps. I thought I was flying straight and level. So, anyway, I finally got my act together and got straight through, and back to base safely.
GT: What is a vertigo experience like?
WS: Very frightening. You think you're in a steep spiral or something and you could be flat, straight and level. You have to get your act together and mindset. Get back to the instruments and believe them, put your life into the instrument's hands, instead of the seat of your pants.
BR: It's hard to do.
WS: Yes it is.
GT: Okay then, where did you go from Opa Locka? By this time we were all together weren't we?
WS: I believe so. Yes, down there in Opa Locka, well we did navigation hops, night flights and general training to transition, supposedly, into fleet airplanes. The fighters were flying Brewster Buffalos and had a lot of trouble with them. As I can remember, there were some English students down there too. I remember one particular incident, there was an Englishman, I don't know, he had to bail out over the swamps, out of a Brewster Buffalo. Then he came in and said, "that bloody Brewster," and he was all ticked off. Anyway, then from there, I think we went on a little leave, didn't we?
BR: Didn't we all get in a car and drive up to Norfolk?
WS: I thought I went by train, but maybe we did go by car, I don't know.
GT: I think I went by train.
WS: I think I went by train.
BR: I'm sure I drove up there with a few other guys.
WS: Anyway, we went to Norfolk to Aircraft Carrier Landing Qualifications. I don't think it was a CASU, was it?
GT: Yes, it was CASU-22 (Carrier Aircraft Service Unit 22).
WS: Well, it was for Carrier Landing Qualifications in which we did a lot of bounce drills out in the pine trees there, someplace on the East Coast.
GT: A lot of field carrier landings.
WS: Yes a lot of bounce drill, and this was in an SNJ. I qualified aboard the HMS Attacker, a British carrier in the Chesapeake Bay. I think we shot about 4-6 landings to qualify. Then we got a leave, because I went home. But it was a short leave.
Photo: Navy's SNJ-3 (AT-6) Trainer
GT: So you went home on leave after Carrier Qualifications? I didn't go home at that time, because the Skipper said it was too far to go to Idaho.
WS: Well, I know I spent 5 days on a train each way, which was a long time. Then we returned to Norfolk and awaited orders.
BR: I thought we had our orders when we left there. We knew we were going to Torpedo 4. I know I went through dive-bomber training, and instead of that, I got assigned to a Torpedo Squadron.
WS: Yes, that's right. Initially in our transitional training we were trained as dive-bombers. Then, when we got our orders, we went into torpedoes. That was about the same time they lost Torpedo 8, I think.
(Note: Out of 41 torpedo planes at Midway from 3 carriers, only 6 returned—VT-8 lost all planes, VT-3 lost 10 of 12, and VT-6 lost 10 of 14. GWT)
BR: I think that's the reason they changed us from dive-bombers to torpedo bombers.
WS: They were running short of torpedo pilots.
GT: I think Bob is right, we had orders to Torpedo 4 even though we didn't know where the carrier was.
WS: It seems to me, it's very vague, but I know I rode the Ranger, I believe, between Norfolk and Quonset at one time. Now, whether I was to report to the ship at that time, I don't know, or that we reported to Quonset.
GT: I just remember Quonset, I don't know.
BR: That's my memory of it, too. The first time I met the Skipper, the squadron was at Quonset Point.
WS: I know they put me in a room with some ship's officer, and they had GQ (General Quarters) at 4 o'clock in the morning. Hell, I was green as grass, I didn't know what to do. He said, "You're a passenger, you just stay here." So next thing I know, they're batting down all the hatches, screwing the doors closed and shutting off the ventilation system, and I said, "Man, what kind of a deal is this, am I in a submarine or what?" Anyway, we reported to Quonset Point, Rhode Island to VT-4 (Torpedo Squadron 4). At that time, they were about to put to sea, and we weren't Carrier Qualified in a torpedo plane.
BR: That's the first time we ever saw the airplane.
WS: So we were useless to them. They attached 4 of us to CASU-22 at Quonset Point, Rhode Island, and they just shoved off and left us there without a CO or anything.
BR: They gave us a TBF handbook and said, "Study this and learn to fly it."
Photo: Grumman "Avenger" (TBF or TBM) Torpedo Bomber
GT: But also, while we were attached to CASU, we were able to check out some other airplanes.
WS: Yes, right. I think we had 4 airplanes for our use that they left behind. They had some SNJs, SBD, and an F4F. And they left behind Cravens, who was a waiter. Kind of a busboy, a Stewart. He took care of our rooms, laundry, and served meals. We had a driver, too, and a car.
GT: About this time we took a couple of ferry trips to Argentia, Newfoundland.
BR: That was after we had learned to fly the airplanes and we thought we were qualified.
WS: When did we qualify in a TBF? Who clued us in on that? Did we just read the book?
BR: I think so.
GT: Oh sure, you just read the book and got right in the plane.
BR: We were supposed to be aviators.
GT: The TBF was an easy plane to fly.
WS: Yes, it was. It was a monster, a big heavy devil, but it was very stable and a good platform. In the meantime, the ship went up to Argentia and was on the hook-up there for a couple months, just training. They decided they wanted the airplanes they had left behind at Quonset, so the senior ship's officers could qualify for flight pay, so we ferried 4 from Quonset Point to Argentia.
GT: I lead the group in a Grumman Duck, you flew an SNJ, and Dondero had the SBD.
WS: Anyway we flew up to Argentia and took a look around, and they had a nice "O" club. I was happy to go back to Quonset, because we had a pretty soft birth down there. So we came back in a transport, a DC-3, I guess. They transported us back to Quonset. After we got back there, they decided those guys have a pretty soft spot, we better get them back to Argentia.
GT: That's where we joined the carrier (USS Ranger).
WS: That's where we joined the carrier, and I guess that's where we qualified.
BR: We did a lot of field carrier landings before they tried us on the carrier.
(Note: To clarify some of the confusion about dates, I have listed below a summary of my Navy orders. Orders for Souza and Ruth should be similar. GWT)
Orders to Pre-Operational Training, Miami, FL -- Nov 27, 1942.
Orders to Torpedo Squadron 4 -- Feb 27, 1943.
Orders to CASU-22 (Carrier Aircraft Service Unit) -- Mar 11, 1943.
Orders to Ferry SBD aircraft to Base Roger (Argentia) -- Mar 25, 1943.
Orders to Ferry J2F Grumman Duck to Base Roger (Argentia) -- Apr 28, 1943.
Revised orders to Torpedo 4 -- May 26, 1943.
GT: We were in and out of Argentia in training operations. Then our major assignment was anti-sub patrol in the Atlantic.
WS: Right, then we went to Scapa Flow, north of Scotland in the Orkney Islands, and were attached to the British Home Fleet.
BR: We had our first combat over Bodų, Norway (Oct 4, 1943).
Photo: Strike on German Shipping, Bodų, Norway
WS: I was not on that Bodų strike.
GT: Yes, I remember well that I had been seasick the night before, and Hutcheson (1) said that you were going to go on that strike. At the last minute they put me on the strike and left you home, for some reason. We had 12 pilots and only needed 9, because we had only 9 torpedo planes. Buck, Bob and I were on that strike on German shipping. (See Norway: A Grateful Nation Remembers.)
GT: Okay then, the tour of duty in the Atlantic was mostly anti-sub patrol.
WS: That's correct, and lots of training flights. We put in dry dock into Furth of Forth in Scotland. Took a train to London for a short leave.
BR: We also escorted the Queen Mary with Winston Churchill aboard.
WS: We went out to meet her halfway across the Atlantic. The Queen Mary went into Halifax. That's when Churchill and Roosevelt met at the "Quadrant" conference in Quebec, Canada (August 10, 1943). Anyway, we turned around a day ahead of the Queen Mary, and she passed us the next day.
GT: So we had to launch long flights to cover her for anti-sub patrol.
WS: The land-based B24s, and the Canadian Air force finished the coverage. Anyway, we returned to the States, we reorganized at Ayer, Massachusetts.
GT: Now, about this time, you and Lynn got married.
WS: That's right, when I returned.
Photo: Lyn and Wilbur"s Wedding
BR: We got 2 weeks leave didn't we?
WS: We got married December 6, a day or two after we returned. It took that long to get the license lined up and so forth. Then we were at Quonset for a while, right after we were married.
BR: Yeah, I caught that bug and we, Clara Mae and I, got married on the 8th. My mother was sick on the West Coast in Los Angeles and they gave me leave to go. I flew to LA and I called up Clara Mae, she came down there, and we got married. Then I flew back.
GT: Felix Ward also got married at that time.
BR: It was a bug that was going through the Squadron.
GT: When we came back, the Squadron reformed and enlarged.
WS: That's right. We went from 9 planes to 18.
GT: The fighters increased their numbers and the dive-bombers went from SBDs to SB2Cs. When I went to Photo Recognizance Training (May 8, 1944), the dive-bombers were flying SB2Cs. So then, how did we get from the East Coast to the West Coast?
WS: Well, then the Squadron was transferred to the West Cost, to San Diego, and Bob and his wife had a car right?
BR: I bought a car. I bought a Hudson Terreplane. My wife was very pregnant, so we drove back and I dropped her off in South Dakota.
WS: I went with you. Lynn was also pregnant and you dropped me off in Chicago. I had a priority for the train and of course she didn't. In order to get a birth on a train, you had to have priority. So we got one single birth across the country to LA. Togetherness! We reported to San Diego. We were there at Brown Field for a few days, and then they put us aboard the USS Barnes for Hawaii (July 13, 1944). The jeep carrier hauled us out and dumped us off in Pearl Harbor, at which time they transferred us down to Hilo. We were there for quite some time, at which time the guys had that mid-air, and we lost 9 guys (see Tragedy Strikes Night Operations in Torpedo Squadron Four: A Cockpit View of World War II). From there, we transferred on the Long Island to Saipan. They put us off in Saipan for a few days. I remember the Japanese bombed us while were on Saipan.
GT: Yes, we had an air raid.
WS: I was in a tent on a cot and it was hot and, man, "boom," the air switched through there! I said, "Whoa, man, what the hell is this!"
GT: I rolled out of my canvas cot and rolled under it for safety.
WS: I remember we ran out and got into a pillbox there, someplace. It was a Japanese pillbox, and it was all full of trash. A heck of a mess in there, and I just stayed in there. Man, that was a nice spot during the air raid. I remember they had a chow line and everybody was scared to get in the chow line, because there were Japanese snipers taking them out of the chow line. Scared to eat, but we got by, and then along came Bunker Hill. (We were loaded aboard and underway on Nov 5, 1944. GWT) We left there, and the rest is, I've forgotten the sequence of all the strikes and that stuff, which Jerry knows. I'd have to look at a logbook. Yeah, we zigzagged over the South Pacific, starting in the Philippines, and wound up with our last strikes on Tokyo, Okinawa, and Iwo Jima. We were at the landings at Iwo Jima and at the pre-strikes on Okinawa, at which time I lost my roommate Scott Vogt.